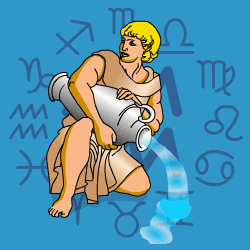 Aquarius
January 21 - February 19
---
Today's Horoscope for Saturday June 23rd
Some slow-witted souls around can't keep up with you. Though it's not a good idea to be too co-operative or to fit in or settle down to doing what other people want you to do. You'll want to influence companions, so you will be mustering up all your persuasive force and vigour. It is just important not to run into opposition from loved ones by pushing too hard. If you do put too much compulsive energy behind your words, they'll back off.
The Weekly Outlook from 18th June
Treat your body like a machine that needs the right treatment, with good fuel and maintenance stops along the way. You need to be fit to crack on through the chores that are piling up in front of you. You'll be upfront about saying who and what you fancy. You're not holding back at all. And even if it's not to do with love, you'll be throwing yourself with a great deal of wholehearted enthusiasm into everything you're doing.
Your Monthly Horoscope for June
Zipping along in a dynamic mood, you won't allow anyone or anything to get in your way. Obstacles will be swept aside and even if you don't always sound tactful, your enthusiasm should be catching so everyone around will keep in step. You'll want more excitement and stimulation, certainly interesting companions to swap ideas and opinions with and will be pushing ahead with your grander plans. Jupiter still at your midheaven will be casting its lucky touch over whatever you attempt so results should be good. Loved ones will appreciate a helping hand early on and respond by showering you with affection after the 13th. You will have moments where you sink into a negative frame of mind as you contemplate what needs cleared out of your life. But don't linger on regrets. Be positive about what you have and what is coming next. Hard work is inevitable in the final days as you knuckle down to chores and keeping a weather eye on your diet and keep fit regimes.
and Next Month's Horoscope for July
Hard work doesn't always bring its reward but it will this month with praise and admiration coming your way. Your achievements will be recognised by the right people so you'll deserve a sense of triumph. Looking after health and fitness will be important since there will be a pile of chores for three weeks which can't be avoided. Luckily Mars in your own sign will give you energy and enthusiasm though not always sense about your limits. When you feel like slowing down, give yourself a break. Secret help or presents, even money, will come in along the way to keep your spirits high. The Cancer Solar Eclipse mid month is a hint that you need to keep diet and exercise routines running in the months ahead as well as being well organised and efficient, so that your stamina is not drained. In the final days there'll be more support forthcoming from close partners so you'll won't feel as weighed down. Though there'll be a family situation which flares up which will require tactful handling.
Year Ahead 2018
What do you want out of your life and your closest relationship? Those are your key questions through 2018 with the Eclipses in your own and your opposite sign. You'll start in a more independent frame of mind, making up your own mind what your priorities are. Though that will gradually change through mid year as you work out how to improve your emotional life. At that point being less self-sufficient and more adaptable will be the key to greater fulfilment. You can't be an island unto yourself.rnJupiter at your midheaven will bring success your way, so whatever you touch at work or in your community activities will work out faster and better than you expect. You'll glow with pleasure at the appreciation coming your way.rnHaving to juggle the demands of an extra-busy everyday schedule will scramble your brain at times, so stay focussed, make out to-do lists and take every chance you can get to wind down and de-stress. Money muddles may occur since you'll overlook important details or leave it to someone else. Going on a wing and a prayer usually doesn't work well where finances are concerned. So be sensible, better organised and not overly generous.rnKeeping an eye on health and fitness will also be an idea from July onwards, since you'll need to boost your stamina however you can. And not overload yourself. If you can reach better agreements with close partners then they can help take the load off your shoulders.rnLate in the year a wider circle of fun and enthusiastic friends will brighten your spirits.