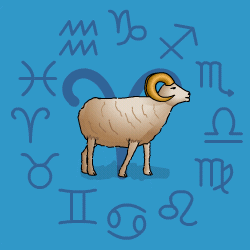 Aries
March 21 - April 20
---
Today's Horoscope for Monday August 20th
More dramatic, fun-loving and attention seeking than usual, you'll you want to live the five star way, at some expense. You want to entertain or be entertained lavishly. Certainly you'll have a definite urge to get away from tedious chores and fly high. You'll want to broaden your horizons. Travel would suit you best but there are other ways to keep you interest engaged. You won't under estimating your talents, though you will be sensitive to criticism.
The Weekly Outlook from 20th August
You are more practical than usual at the moment, keen to get details in the right place. Though this week you'll also want to be experimental and any of the old compromises frankly aren't going to fit anymore. Although you may not be very self-disciplined, you can probably get a great deal done because you will be willing to take the odd risk. Try and make some changes in your immediate surroundings; then everything is going to go a great deal better.
Your Monthly Horoscope for August
You'll throw caution to the winds and decide to go all out for fun, pleasure and enjoyment. This is your time to sparkle in the spotlight, be surrounded by loved one's attention and certainly not hiding away in a corner. Any time you feel you're not getting the appreciation or affection you'd like the answer is to give more. Hand out kisses, hugs and compliments and more will come back to you. Not just for this month but for a while ahead. A sudden surprise on the cash front early on may lead to a hasty decision or even an argument with a friend. Cool it and look before you leap into decisions or commitments. Your luck should hold but try not to take others' generosity or indeed your good fortune for granted. From mid month you'll be pushing ambitiously ahead, issuing orders and expecting those around to dance to your tune and move at your speed. You'll settle onto a productive, if not very glamorous few weeks in the final days, getting on with necessary chores and looking after your health.
and Next Month's Horoscope for September
Settling into a steady routine of chores and duty isn't quite your style, but you'll be pleased by the results of your labours. You'll stay on top of detail and be critical at times of mistakes. Since you'll be putting energy out, it'll be a time to up your keep fit regimes and eat sensibly. Getting better organised won't be a problem which will also save you draining your stamina by going the long way round. The affection of a close partner and the admiration of social mates will keep you bouncing until the 9th, after which you'll be keen to stick close to just one person. Your feelings will deepen considerably so you'll tend to magnify your likes and dislikes. By the 11th you'll be on a high, with a minor triumph to celebrate, knowing you're appreciated. Friends will be pushing you hard to sort out plans and be more adventurous but try not to commit yourself in haste to anything that will cost too much. Your finances will be up and down for a few days. After the 23rd you'll be socialising more and not as stuck to the grindstone.
Year Ahead 2018
Home, friends and romance are all areas highlighted by 2018's Solar Eclipses so will be your priority. Review, discuss and adjust what isn't suiting you any longer. Happily Jupiter moving through Scorpio will allow you to embrace change in a positive way, with beneficial results, emotionally and financially. Money will come in unexpectedly and you'll let your defences down to allow for more intimacy. Though towards midyear you'll find your finances move into a roller coaster phase, both up and down, so you'll need to budget sensibly.rnIn your career or community activities you may be weighed down by work and responsibilities so will be sticking to the straight and narrow. Everything you've pushed and prepared for should be bringing in a harvest. Though past mistakes may also surface to be sorted out.rnIn the first few months you'll be widening your circle of friends and sorting out longer term plans. With a major push from March onwards to move towards your goals and fulfil your ambitions. It'll feel like pushing boulders uphill at points but perseverance will win through.rnThen from midyear you'll want to slow down to focus on family and domestic matters and to liven up your social life. It won't be easy juggling close relationships and duties in the outside world. But needs must for a fulfilling life. From November you'll be aiming higher, keen to broaden your horizons and find time for adventures or more stimulating hobbies.