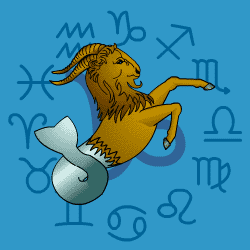 Capricorn
December 23 - January 20
---
Today's Horoscope for Monday August 20th
Jealousy and possessiveness could be a problem but they are just a reflection of how deeply you feel. If anyone slights you at the moment you will not easily forgive and forget, but do not take it to extremes. You are involved sorting out financial matters with partners, which could lead to arguments if you try to hang on for control. At times you will pull back from too much company and have a chance to mull over options.
The Weekly Outlook from 20th August
Because you come across as honest, confident and good with words, you are a popular companion at work and in your leisure activities. However later in the week you need to try to walk your own track. If you don't you may get yourself stuck and feel that everything is getting on top of you. You don't want to be possessed or ordered around. You just want to nudge your life in a direction that will make it more fun and challenging.
Your Monthly Horoscope for August
Love and money may be a tricky mix early on so try not to leap ahead without thinking through the consequences of your actions. You'll be on edge but enthusiastic and supportive friends will keep your morale high and offer advice. The Solar Eclipse in the deepest, most confidential area of your chart hints that changing the way you share, care, co-operate and relate with emotionally or financially will be wise. Leaving behind old behaviour patterns is not easy but the results will be worth the effort. You'll be pondering on highly personal matters and wondering how to make the transformation you want and need in your life. Mars will zip up your energy and courage from mid month. You'll sweep obstacles to one side not always tactfully, but you'll make fast progress. The intense mood will give way to more enthusiasm after the 23rd as you think big and run with your grander plans.
and Next Month's Horoscope for September
Normally a down-to-earth sign, you'll be throwing caution to the winds and aiming high. You'd prefer to be travelling further afield but if that isn't possible you'll be expanding your horizons in other ways. You'll want more mental stimulating, exciting hobbies and to be soaking in thought-provoking ideas. Not all of your grand plans will be workable but this is your time to allow your visions to flourish. Your social life will be more elevated than usual with special occasions and the chance to shine in your best outfits. Your optimism will be rewarded around the 12th as one plan succeeds. Affectionate friends will be around to congratulate you and help you celebrate. Getting your personal knocked into better shape will then be your aim and where there's a will there's a way. You'll let nothing slow you down and the rewards will come in as long as you don't let your heart rule your head and act impulsively. In the final days you'll be into a higher profile few weeks, keen to make your mark.
Year Ahead 2018
Your optimism will keep you sailing along in good spirits through 2018. Friends, new and old, will be around to boost your morale and keep your focus on what's coming next. Not all of their advice may be realistic though it'll always be cheering to hear. Just check out in advance before making decisions for yourself. Keep networking since the universe is behind you.rnBut for all that you will be more serious at times with Saturn now in your own sign making it clear you have to keep your feet on the ground. Part of its influence will be to prompt you to clear old baggage of any variety that you no longer need, out of your life. Whether in possessions, attitudes of mind or even people you no longer have common interests with. Think of a plant being pruned back, which stimulates new growth in time. Then apply that to your life. Just don't be too standoffish or give in to self-doubt which could happen in odd moments.rnYou'll be busily sorting out your personal finances in the first few months, taking the initiative and ensuring that your long term security comes before indulgences. Then after July you'll be keen to reorganise joint finances, where you share responsibilities with others. The Leo Eclipse will nudge you into changing the way you handle co-operative agreements, financial and emotional. Be open to the idea that maybe your old approach is outworn, so trying new terms of engagement would work better.rnClose relationships will be going through a period of adjustment also from July for a few months as you seek to reach new understandings both internally as you ask yourself what you really want, and with partners. You will feel unsettled at home, wanting to say on the move, perhaps anticipating another relocation soon. All of which makes it tricky to put down roots. But you will be aiming ultimately for more freedom.rnLate in the year you'll sigh with relief at getting more time to yourself.