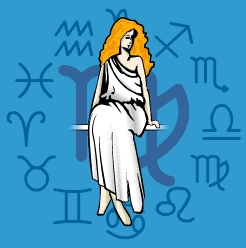 Virgo
August 24 - September 23
---
Today's Horoscope for Saturday June 23rd
Try to open up to other people a little bit more. Maybe you feel you would be humiliated if you disclose all your best ideas. But in fact you will gain from creative discussions. You give to companions, they give to you. The important thing is that the truth is what matters at the end of the day, not who's saying it. You want people to accept you as you are. You are very tolerant of others and you expect them to be likewise.
The Weekly Outlook from 18th June
You are in your element in group efforts at the moment, keen to see that everyone pulls in the same direction. You have a mischievous look in your eye and filled with physical passion. You'll be more assertive about trying to make good connections and giving out the right kind of vibes. You feel great which will certainly attract the right people to you. You will certainly not be leaving anything to chance when it comes to romance.
Your Monthly Horoscope for June
There'll be no sense in hiding your light under a bushel and skulking in a corner. This is your chance to get out there and shine. Be bold and demand that your achievements and talents are valued and given recognition. You'll be taking the lead at home and at work, insisting that others follow along behind. OK you'll be working extra hard but the rewards will roll in to boost your morale. One close partner may be evasive or off in their own dream world. Don't expect miracles from them. Warm-hearted friends will keep you company and lay out a welcome mat when you're in the mood to be out and about. You'll need to pace yourself since the chores will be piling up and you won't burn the candle at both ends without boosting your stamina and putting down a few limits. Your enthusiasm will tend to run away with you so you could end up promising more than you can deliver. New projects will get under way on the 13th and thereafter you'll be less sociable but more focussed on your real priorities. What is key in the final days is to lay out a long-term future plans and decide how best to put it into gear. You'll have plenty of support, encouragement and advice. Even if your life feels pressured and less fun than usual, you'll keep on trucking.
and Next Month's Horoscope for July
You'll be anchored down by a pile of chores and need to watch a tendency to be overly-perfectionist. If everything has to be done with obsessive conscientiousness or you reckon you're the only one to do chores well, you'll land yourself with too much of too much and drain your energy. Put attention towards staying fit since you'll want to distract yourself with fun meetings and trips. Your magic way with words will win you new admirers and your newfound tolerance will allow you to absorb other viewpoints. The Cancer Solar Eclipse mid month is a challenge to sort out your longer term plans. Don't put off decisions and drift along as before. Ensure you have a structured idea of where you are going and how to get there. Your circle of friends will widen and you'll enjoy networking in the months ahead. There'll be a view upheavals late month just as you decide to take it easy and recharge your batteries. Try not to fly off the handle or be too hasty. Turn the charm up full volume and act as peacemaker.
Year Ahead 2018
A busy busy, varied and enthusiastic everyday schedule will keep you on the run and never bored. Always a great chatter, you'll be communicating with even more exuberance and finding that your new more positive and tolerant approach is paying dividends. Suddenly your world will seem a brighter place with new contacts and fun encounters along the way.rnThere'll be less time for fun and social high-jinks since duty will get in the way and you may find it more difficult to be spontaneous and outgoing. Make the effort. You all too easily fall into being a workaholic. Remember you're an Earth sign and they always need some indulgence before they feel happy. Those close may be landing heavier responsibilities on you which will teach you valuable lessons about love. In giving to others you give to yourself.rnOne close partner will be vague, preoccupied or even downright evasive. And truthfully you won't be too sure of how committed you want to be. Search out more spiritual connections and you'll be more satisfied.rnJoint finances will continue to be up and down, sometimes great and at other times unexpected expenses will throw your budget out. So plan to save when there is surplus to tide you over the leaner times.rnThe first half year will be hard-working so you'll need to be on top efficiency form, as well as boosting your fitness and stamina when you can. After mid year you'll want more time for private reflection, to put the past into perspective.rnYou'll also from July be keen to widen your circle of friends and to be a better networker. Perseverance will pay off. Late in the year you'll be more content within yourself, relaxing happily at home, even in your own company. And planning how to expand your domestic setting to allow for more entertaining.