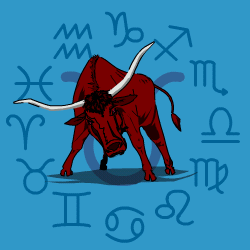 Taurus
April 21 - May 20
---
Today's Horoscope for Monday August 20th
You will be secretive, playing your cards close to your chest. It's emotionally more intense than usual, so watch you don't magnify certain situations or comments into something bigger than they are. Try to roll with the flow. Don't be too possessive or hang on sentimentally to memories from the past. If you open up and stop controlling, then more generosity will come your way. The family will be there when needed to offer advice and support.
The Weekly Outlook from 20th August
In some ways you feel like a child at heart - spontaneous and unselfconscious when it comes to enjoying yourself. You will be wearing your heart on your sleeve, and be very upfront about what or whom you fancy. The surprises around this week will be positive and good for you. You can begin to see what you've never seen before, perhaps about relationships or about your life. You realise now you want to do things in a new, different kind of way.
Your Monthly Horoscope for August
Although you'll want to be pushing ahead with ambitious plans, you'll know that your first priority is home and family for three weeks. Putting down roots and making whatever changes you feel necessary both in family relationships and practical domestic arrangements will bring you fulfilment in the months ahead. The Solar Eclipse hints that heart is more important than head. You won't always feel co-operative, indeed early on you may stamp your foot and cause a few upsets. Luckily one close partner will be laid-back and happy to offer support. You may be over eating at points since richer and sweeter food will be tempting. Then you'll set your sights higher from mid-month, keen to be off adventuring and certainly intent on spreading your enthusiastic opinions in all directions. Romance, fun and enjoyment will come with the Virgo Sun from the 23rd for four weeks as you set out on a giddy social whirl.
and Next Month's Horoscope for September
A fun-loving, sociable and popular few weeks will find you on sparkling form. You'll be in the spotlight of loved ones' attention as well as kicking up your heels with friends. Your witty line of jokes and entertaining conversation will keep you centre spotlight, so any thoughts of work and duty are likely to go out of the window. Venus in your opposite sign of Scorpio from the 9th will increase your romance and enjoyment-quotient, with compliments and invitations coming your way. You'll make everyone you meet feel special. A pet project will get the go-ahead in the second week, so your confidence will soar. Luck will be on hand. You'll be laying down the law and expecting everyone to dance to your tune after mid month. Try not to rock the boat too hard or be too unco-operative since you will be in a rebellious mood. In the final week you'll push frivolities to one side and get back to more serious matters.
Year Ahead 2018
Your Eclipse year in 2018 divides into an ambitious, high-flying phase first half; and then after midyear, a home and family focussed phase. Making your mark and getting your talents out on display early on will be a priority. This is no time to be a shrinking violet. The support and enthusiasm of close partners will be there for you throughout. Not only will they keep your hopes high, you'll enjoy sharing more activities with them and dreams.rnYou won't feel as restricted financially and emotionally as you have been over the past two years. But your experiences have made you more resilient and given you the experiences which will stand you in good stead ahead. Your restlessness will not diminish.rnIndeed by mid year you'll be ready to throw caution to one side and be as rebellious and independent-minded as you please. This will be a major turning point for you, running on for years to come. You won't care what anyone says or thinks, you'll walk your own path. Just try not to get too heavy in discussions, since you'll be challenged on your viewpoint at times and may perhaps have to adjust your outlook. Money will roll through more easily towards the year end either through partner's generosity, joint ventures or just plain luck. You'll also be lowering your defences and inviting more intimacy into your life.