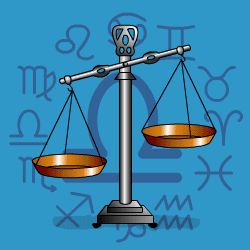 Libra
September 24 - October 22
---
Today's Horoscope for Saturday June 23rd
The surprises around now will be very positive and very good for you, because you can begin to see what you've never seen before. This may be about relationships, perhaps about your life, and you know that now you want to do things in a new and different kind of way. You will need to step back and be more tolerant, a little bit more light-hearted or light-handed in the way you handle conversations and discussions. Keep an open mind on almost everything.
The Weekly Outlook from 18th June
What you secretly yearn for is to be applauded by everyone around. This is your peak time of year where work activities are concerned, so recognition is likely if you get your talents out on display. Later in the week with Venus and Mars around the mood will be very lively and upbeat. You will be throwing yourself with gusto into everything you do, whether it's sociable, romantic or creative. Don't hold back from telling someone you fancy them.
Your Monthly Horoscope for June
Brimming over with high energy and exuberance, you'll be redoubling your efforts to enjoy yourself and be an active presence on the social and sporting scene. Try not to boss loved ones around since they may not take kindly to your enthusiastic approach. You'll also be spreading your opinions around with vigour and be set not only on communicating your zeal but also raising your sights higher. Travel would suit you best but if you are stuck in one place you can always expand your interests in other ways. Just don't over exert or over commit yourself since you may sag at times. Your social status will be rising with invites to special occasions and you'll be turning on your charm full-volume to impress the right people. From the 13th affectionate friends will be around to make you feel appreciated. You'll be chatting over longer term plans and picking up advice left, right and centre. At times you'll try to shock companions just to amuse yourself but try not to go too far. In the final ten days you'll be on peak form and in a higher profile position, gaining respect and praise for your achievements and taking the lead.
and Next Month's Horoscope for July
Full of vim, vigour, bravado, high energy and determination, you'll be making your mark at work, out in the community and at home. Loved ones will find themselves swept up in your enthusiasm or be ordered around which may not go down too well. But this is your high profile time of year so you've every intention of taking the lead and ensuring your achievements are recognised. Clearly not a time to be a shrinking violet or hide your talents out of sight. Be bold and demand recognition. The Solar Eclipse at your midheaven mid month hints this is an ambitious phase that needs to start now and continue in the months ahead. Your confidence will be high and rewards should be rolling in on the cash front. Though there may be some resistance from a loved one or family member so you'll need to be tactful and flexible, but don't get too distracted. In the final days you'll be into a friendly, forward looking phase, surrounded by good mates. There'll be a few unwelcome surprises but you'll cope better by refusing to be provoked.
Year Ahead 2018
Your challenges in 2018 will be to breathe new life into your social and love life, your career and your friendship circle. So you won't go short of projects to keep you occupied and entertained. Early on if you are feeling unloved and overlooked, then you need to make an effort to hand out more affection and attention to others. What goes around, comes around and it isn't always the negative things. Then the invitations and compliments will start flowing your way.rnYou'll also be focussed on home and family matters, finding that a spot of reorganisation is required. Perhaps even thinking of moving in the not too distant future. If emotional tensions or old resentments surface then see the advantage of sitting down with loved ones for free and frank discussions which will clear them out of the way once and for all. Not that it will always be easy since certain family members may be resistant. Be calm, be tactful and keep chipping away.rnOne close partner will continue to be erratic and contradictory, here and then not here. Treat it as a blessing in disguise to give yourself the freedom you want to pursue your own interests. Be inter-dependent not dependent or possessive.rnLuckily money will flow through more easily to allow for treats, though it'll be an idea to save for a rainy day in future, rather than letting it slip through your fingers on frivolities.rnFrom July you'll want to make your mark and have your achievements recognised, so you'll be pushing ambitiously ahead. This won't be a time to be shy or hide away your talents. Bo bold and demand attention. It'll take hard work and effort but the rewards will come through.rnNew friends will turn up as well, widening your circle and providing you with more fun as well as linking you into good social networks. They will help with encouraging words of advice for your future plans and keep you on the right track.rnLate in the year your everyday schedule will move into a revitalised phase. You suddenly discover that what has been holding you back isn't bad luck, but too narrow an attitude. Being more positive will open new doors.