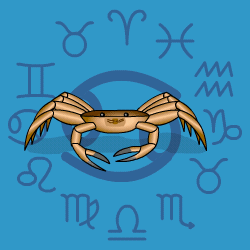 Cancer
June 22 - July 23
---
Your Birthday Horoscope
IF IT'S YOUR BIRTHDAY TODAY your year ahead will be lively, forward-looking with a basketful of new plans for the future. You'll be attracting new friends, rather exciting and at times oddball, not always reliable but never boring. Enthusiastic support at work or around the chores will keep your morale high. Socially you'll be on top form. Close relationships will be moving through a sticky phase though. Try to look on the bright side. Loyalty will be more 11important than passion.
Today's Horoscope for Saturday June 23rd
You want to be on your toes, and to keep moving. So you need to soak up some of that energy and make sure that you're doing as much as you can to learn new subjects. You may be absolutely right in what you are saying to loved ones but it's still a great idea to keep a fairly open mind. Watch a tendency to be intense, even slightly obsessive. If you can be tolerant of other people's viewpoint then you'll make progress faster.
The Weekly Outlook from 18th June
This is the start of your birthday month so you fully intend to suit yourself. This is the time of year to lay down plans for the next 12 months. So work out what will suit you,then get cracking with plans. You will go well out of your way to ensure that you have everything you need - both emotional security and also all the wonderfully indulgent things of life. You definitely have a sensual, sensuous quality about you this week.
Your Monthly Horoscope for June
Looking great and attracting admiring glances for your spruced-up appearance, you'll be on social top form. But you won't always have the motivation or energy to be out and about full time. Give yourself a chance to wind down and recharge your batteries till be 21st. Finding time to learn the lessons of the past year and plan ahead will mean you'll be ready to leap into action when your birthday Sun comes around. Travel plans may hang fire or be plain confused for a few days, so double check everything if you have to be on the move. In odd moments you'll be preoccupied sorting out confidential cash and emotional matters as Mars lingers for an unduly long time in Aquarius. Perseverance will pay off since there won't be instant answers to dilemmas. In the final days you'll be enthusiastic and in the mood for a fresh start. One close partner may be a touch slow to agree with all your plans, so try to coax them into co-operating.
and Next Month's Horoscope for July
In an exuberant and enthusiastic mood, you'll be out and about in high spirits, socialising like mad and relishing the attention coming your way. Your birthday Sun is always your new start, as you plan for the year ahead and decide what your top priorities are. Your new found self-confidence will allow you to demand more respect at work. You'll be putting a higher value on yourself and demanding everyone else does the same. There may be a few tensions with one close partner before mid month which you'll need to resolve with tact and flexibility. Being confrontational or stubborn won't work. The Solar Eclipse in your own sign is a hint that you need to rethink your plans and your image. The old ways need to be firmly pushed to one side as you step out in a more independent frame of mind, making your own choices and forcing yourself to cut away from old attitudes that don't fit with the future you have in mind. In the final days you'll turn your mind to money. While it'll be tempting to spend, the Lunar Eclipse on the 27th will be challenging you to get a grip of put security above indulgence. There'll be a few differences of opinion with a partner so you'll need to compromise.
Year Ahead 2018
2018 will find your self-confidence soaring with social invites pouring in along with compliments. You'll be putting a higher value on yourself and finding that everyone else does as well. And your positive and enthusiastic approach will bring praise at work as well. Just don't go wild speculating or gambling, since nailing down your financial security is one of this year's priorities. Save, don't spend to impress; and be pro-active about taking the initiative to improve your long-term security.rnClose partnerships may be cooler. Try not to be critical or negative. Cherish loyalty above passion. It may be that work is interfering with relaxation time, but be grateful that you are rising up rather than the reverse.rnYour path will continue to be winding in terms of career and general life's direction but it'll rarely be boring. If you can be alert for changes and new opportunities, rather than sticking to old ways, it'll bring better results. You will be facing challenges where co-operation is concerned. Try not to be too controlling or indifferent to the needs of those close or at work.rnNeptune will bring you dreams, hunches and insights pointing you down a more spiritual road. OK at times your judgement may be off-beam and you'll have to be wary of relying on gurus or others having all the answers. But you'll be softening your attitudes as a result of your new-found beliefs.rnTravel may be muddled so make sure you always double-check all arrangements and have a Plan B up your sleeve. Late in the year you'll find an exuberant mood around work or the chores and be feeling healthier.