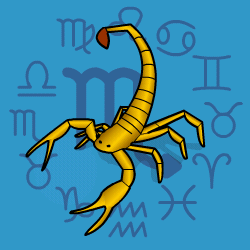 Scorpio
October 23 - November 22
---
Today's Horoscope for Monday August 20th
You're nearly at the end of a high-profile, ambitious few weeks, when you've been keen to be noticed. Use the final days wisely to make your mark. Though truthfully what you really want are treats, luxuries, and presents. You'll be very attached to the good things. It can make you a touch possessive, so you have to look more laid back than you will feel. Little whims send you off in directions that are not always terribly wise buying on impulse.
The Weekly Outlook from 20th August
This week you definitely don't want to be part of a claustrophobic twosome. The more the merrier as far as you are concerned. You may find that some slow-witted souls around can't keep up with you at the moment. But the important thing is that you do what you want to just suit yourself. It's not a good idea to try to be too co-operative and fit in or settle down to doing what other people want you to do.
Your Monthly Horoscope for August
Your sunny self-confidence will see you through a few rumbles and grumbles at home or with a close partner early on. Not allowing yourself to be provoked into hasty responses or decisions will help. You won't be as sociable or romantic as usual, so pamper yourself in the quiet moments. Work or outer ambitions will be uppermost in your mind since you'll want to make your mark. This isn't the time to be shy or self-conscious about demanding recognition for your achievements or your talents. Take the lead and insist others follow behind. It'll be take effort but you'll show by example how its done. This is your high- profile peak for the year as far as work or your community activities are concerned, so you'll need to push personal matters to one side to keep your focus steady. Your everyday schedule will speed up considerably after mid month and you'll be impatient with delays and mistakes, expressing yourself forcefully and none too tactfully at times. In the final days you'll be surrounded by friends and team mates so will have more support.
and Next Month's Horoscope for September
You won't be short of good company with friends and team mates around to make you laugh, offer you advice and support. You may not feel too sociable or romantic in the first week but you won't be lonely. Then you'll be turning on the charm and finding compliments and admirers flock your way. Your sunny self-confidence will prove to be a boon around the 12th as one dream turns into a reality. You've pushed hard and knew it would happen so you'll deserve a pat on the back. There may be a few grumbles at home amongst the family perhaps because you'll be taking a few gripes into your domestic arena that really belong elsewhere. If a project is on a go slow, don't blame loved ones. Take time out for a rethink, unpick and mistakes and by next month you'll be all set to go in better shape. After mid-month, you may not see eye-to-eye with a close partner but getting heated and flouncing off won't help. See where you can agree to differ or give both of you more elbow room. In the final few days you'll want to wind down, recharge your batteries and take a break.
Year Ahead 2018
Your head and your heart will tug in opposite directions in 2018 which won't suit as emotionally intense a sign as yours. You like to be fully engaged. But needs must. First half year will be focussed on home and family matters, making adjustments, reorganising and finding a deeper sense of roots. If loved ones are vague or evasive, try to be forgiving rather than critical.rnA fairly heavy everyday schedule may weigh you down at times, making you want to withdraw, getting sensitive to those who won't listen at work or out in the neighbourhood. Maybe you need to change your approach. Be persistent in getting your message across, listen to feedback and find out what those around really want to hear. Being less dogmatic or forceful will help. Getting organised will be key, streamline your efficiency and manage your time well.rnSince nothing will stay the same for long at work, try to schedule in time for reflection and de-stressing, since you will get highly-strung at times. Be open to new methods and new approaches. Go with the flow and even if certain projects don't work, others will. One door closes, another opens.rnLuckily with Jupiter in your sign till November, your confidence will stay high and luck will be on your side. You'll attract enthusiastic responses from everyone you meet as well as resources. Late in the year, money will roll in faster. And probably disappear just as quickly since your spending will shoot up. Try to save some of your good fortune as you go.rnFrom July you'll be aiming to spread your wings to bring more excitement and adventure into your life. This'll be the time to find your vision and follow your dreams. Your ambitions will need a hefty push as well if you are to get the praise you want for your abilities. Don't be a shrinking violet. Take the initiative and make it happen over the next few months.