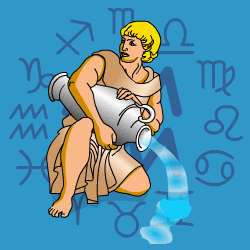 Aquarius
January 21 - February 19
---
Today's Horoscope for Wednesday October 23rd
You'll be more ambitious than usual for a few weeks, keen to be noticed and aiming for a prominent position. What you want is to be praised for your talents and achievements. This is your peak time of year where work or community activities are concerned so recognition is likely as you strive hard to get your talents out on display. But you will be serious and have no time for vague discussions which don't go anywhere.
The Weekly Outlook from 21st October
You'll be gaining success at work, though you may think you are not doing well. Somehow you think that others claiming credit for your achievements. Try to keep your energy under control. If you scatter off in all directions you will only end up hot and cross. Mars around now tends to rev up your engine, but in awkward aspect to Saturn, you will find it is all very stop start. As soon as you try to shift into a higher gear you meet significant obstacles. So just move slowly.
Your Monthly Horoscope for October
Fired with enthusiasm you'll be promoting your pet causes with zeal and spreading your opinions far and wide. After a restrictive few weeks you suddenly feel the brakes are off and you can aim higher and broaden your wings. Adventure beckons whether you opt to travel further afield or take up new interests where you are. Just don't come on too strong with your views since it won't be persuasive. And you will have private concerns to distract you along the way. Clearing the past and old baggage out of your life is a long, slow process, not something to accomplish in a few days. You'll be chip, chip, chipping away at the issue this month, jettisoning whatever feels as if it has past its sell-by date. You can reassure yourself that letting go whatever is not needed ahead will open up space for better things to come. A friend will offer hear-warming support towards mid month. And your social status should rise with invites to special occasions where you can put on a sparkling performance. Into the final few days you'll be working hard and demanding praise though there will be a few disruptions at home and elsewhere. Keep your focus steady.
and Next Month's Horoscope for November
This is your peak phase of the year so there's no sense in hiding away in a corner or being shy. You need to take courage in both hands and push yourself forward. Demand appreciation for your achievements, praise for your personality and make sure you're taking the lead and indicating others should follow your plans. It won't work all the time naturally but if you don't try you won't get. You'll be spreading your opinions around vigorously to anyone who'll listen. Just remember that gentle persuasion often works better than coming on too strong. But you'll be carried away with your enthusiasm and investment in your pet causes so won't find it easy to stay quiet. Your popularity luckily will be high amongst friends and team mates since you'll have a knack of making everyone feel welcome wherever you go. Into the final days you'll be redoubling your efforts to make your mark.
Year Ahead 2019
Looking ahead you'll see rosy glows on the far horizon with great possibilities in the future. A wide circle of enthusiastic friends will be boosting your self-esteem and handing out helpful advice, which may veer to the over-confident at times, so be sure to double check. But for all that you'll be more inward looking, asking yourself in the quiet moment probing questions about what you really want to be doing with your life. Certain old ambitions have lost their fire and you know you need to let them go and find better for the future. You'll also be clearing out old baggage, whether emotional or old attitudes of mind that have passed their sell-by date. The Solar Eclipses early and late will prompt you to dig deeper for answers. House moves are a possibility or renovations and changes in your domestic setup, as you're drawn to a more modern feel for your intimate surroundings. You'll be restless as well emotionally with changes ongoing within the family. At times you may feel insecure as old certainties seem to disappear. But in future you will reconnect where it really matters in a different way. Your finances will be rebalancing from early on as you decide that sharing and caring and co-operating is more sensible than going it alone. Revising your fitness and health routines and regimes will be on your mind from July onwards for several months. Not over-committing yourself and draining your energy unnecessarily will be one tip. Remembering to stay positive another, since your state of mind will affect your body. If you feel discouraged then your physical fitness will sag. As you near the year's end you'll find that you become more contented in your own protective niche and with yourself. Your hunches will prove spot on about how you can give yourself a more fulfilling time ahead.