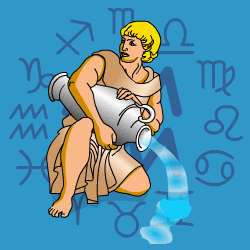 Aquarius
January 21 - February 19
---
Today's Horoscope for Thursday April 02nd
Whether it's at home or at work, you want the support of those who can be there for you. Give a wide berth to grumblers and gripes and look for buddies, you trust and who have been there for you in the past. At one point you will get pulled into a tricky situation and end up feeling frustrated or blocked. But on the whole you'll be tactful and keen to maintain harmony. What you want is a happy peaceful mood so you will be smoothing rough edges and pouring oil on troubled waters.
The Weekly Outlook from 30th March
Leaping recklessly into telling others what you think of them in an abrasive way may be tempting but it could backfire. Though it won't be easy to moderate what you're trying to say. You'll either under-do it or overdo it. Later you'll be in a mood to indulge. Nothing cheap or tacky attracts you now, you want to romance the five-star way, at some expense. You want to entertain or even better be entertained lavishly, with style and good taste.
Your Monthly Horoscope for April
Zipping along a busy and varied everyday schedule you'll be talking non-stop, multi-tasking and almost certainly over committing yourself. Try to sort out priorities in advance, manage your time better and stay organised. If you pay attention to the details then the larger projects will look after themselves. You'll feel there are rocket-fuelled propellers behind you so don't get too ahead of yourself. Your social life will also be bountiful and fun with invitations and compliments coming your way. Loved ones will be around to make you feel warm and wonderful as well. You will have a wild and way-out moment towards the 7th as an unexpected turn of events takes you by surprise. You won't be in a mood to compromise and may feel you owe it to yourself to respond vigorously to provocation. But keeping calm will be a better idea. In the final days you'll slow down to spend more time at home although you'll be making changes in your domestic setup so it won't all be plain sailing.
and Next Month's Horoscope for May
You won't want to travel far from home or familiar surroundings with the Taurus Sun in place at the base of your chart until the 20th. Putting emotional matters before career ambitions will bring you fulfilment. Loved ones and family members will rally round to make you feel loved and wanted. Having heart-to-heart chats will smooth out any underlying tensions and allow you to draw closer. You'll also push ahead with any reorganisation and changes you had in mind. In private you'll notice you feel more confident and better able to cope as you rely on your own judgement. Getting your finances knocked into better shape will move up as a priority in the second half of the month. You'll want to spend as well, but improving your security needs to come first. More fun and entertainment will be on offer in the final days as your social diary fills up.
Year Ahead 2020
Normally a chatty, outgoing sign who thrives on having a wide circle of friends and rarely sitting still, you'll find 2020 a more inward-looking and reflective year. You will be pondering on far-reaching dilemmas - where to go and what to do that will bring you more fulfilment in future. Although there will be barren patches where you can't see clearly ahead, there'll also be times of optimism and exuberance, when you'll see how to turn certain dreams into reality. Try not to hold yourself back by being too blinkered and refusing to listen to feedback. Help and advice will come from an unexpected quarter and possibly in secret, so you'll need to stay open and be prepared to compromise with your old attitudes.rnFrom March you'll feel you've passed a decisive line and be on your way into a new phase, not with spectacular results initially. This will be a slow burn start, as you sort out your priorities. Old friends may find you a touch defensive or retiring but you'll need space to absorb your new found strategy for living.rnNot that you'll be hiding away for long since Venus will nudge you back out onto the party scene between April and August. There'll be invitations galore, compliments and new admirers for those on the lookout.rnA speedy everyday schedule in the second half year will also keep boredom at bay as you surge ahead with renewed vigour. You won't always be tactful if you hit delays or other people's mistakes and will express your opinions with a degree of force. Watch that you're not accident prone since you could be hashing and crashing around in your determination to get everything done in double quick time.rnTowards the year end you'll turn your mind back to friends again, keen to catch up on old acquaintances and to widen your circle in the months thereafter. You'll be keen to find a way of being sensible as well as enthusiastic with both down-to-earth Saturn and expansive Jupiter in your own sign.