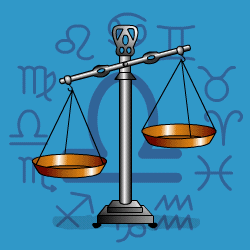 Libra
September 24 - October 22
---
Today's Horoscope for Thursday April 02nd
You will be chopping and changing your mind about what you want to do in the days ahead. Just let yourself wander. You will settle within a day or so to a sensible game plan. Try not to get uptight if a friend pays attention to someone else, because it will pass by quickly. Just let it all ebb and flow. Luckily Jupiter will bring compensations in the way of indulgences. At one point you will be thoroughly lazy, sitting with your feet up and mulling over old memories.
The Weekly Outlook from 30th March
You won't be able to assert yourself as much as you'd like. You'll feel circumstances mean you can't make much of an impression. Issuing ultimatums will not make any difference, so you hold yourself back until the tide turns in your favour. Then it'll all spill out and your frankness may get you into trouble with loved ones. Luckily your obvious enthusiasm should be enough to keep them sweet. Just try to involve them in all your social plans since you definitely want to stir up more fun.
Your Monthly Horoscope for April
Although you'll want a helping hand and a shoulder to lean on you'll be in exuberant spirits. Your social schedule will be full-on and you won't hold back from stating what you fancy, getting your own way or throwing yourself energetically into enjoying yourself. Your physical energy will be high so you shouldn't run out of steam. There will be a positive and significant shift at home and in your family life. It'll come partly through your own efforts since positive thinking plus determination will turn one situation in a more fortunate direction. You won't give up until the changes you want to put in place have been agreed. You'll be mixing with a fun crowd out on the party circuit and will be exploring new venues. Just be a touch wary about going overboard spending since joint finances will be erratic and you'll need surplus to spare for sudden emergencies. In the final days you'll push aside frivolities to sort out confidential agreements.
and Next Month's Horoscope for May
Normally a light, bright sign who prefers to stay upbeat, you'll be pushing on through an intense and secretive three weeks. Determined to find a solution to financial and emotional tangles, or at least reach a better agreement, you'll be digging deep and insisting that certain people come clean. There'll be no fast answers so set your mind to being firm and flexible. There will be favourable changes along the way after the middle of the month, indicating that your strategy is working. Loved ones, family members and one situation at home will all be moving in your direction. You'll sense that recent strains are starting to disappear and you'll have more influence moving ahead. Hard work will be unavoidable from the 13th for several weeks so you'll need to stay fit. But your mood will be enthusiastic after the 20th as restrictions ease with more chances to fly higher and broaden your horizons.
Year Ahead 2020
2020 will be your year for reorganising your home and domestic life and finding that major changes in relationships within the family have to be negotiated. It'll feel like an uphill struggle at times but you need to be persistent, put in the leg work and stand firm about what you need for yourself for the future. Because of the contradictory nature of the influences around, you'll find it's one foot forward and one foot backwards. There will be moments of contentment and moments of drama, some tensions spilling into the open and old resentments getting finally cleared out of the way.rnYou'll be on an emotional roller-coaster in odd patches as sudden events crop up unexpectedly which throw your plans off track. But you'll keep your eye firmly on your goals and won't lose your equilibrium for long.rnJoint finances will need care since more money will come and go that usual which means you have to budget for an uneven flow of income. It needn't necessarily be disastrous, just fast-changing and unpredictable.rnYour energy won't be limitless so don't over push yourself when you feel like slumping. You will want to be helpful but over stretching yourself to ensure that others are being looked after won't be sensible.rnLuckily your social life will be lively and adventurous across the middle months of the year. And close partners will be firing on all cylinders from July onwards which could lead to arguments but not if you co-operate with their plans. That way you'll make progress faster.rnThe eclipse cycle will focus you on home matters for the first half year and ambitions in the second half. Then as you head for the New Year into 2021 you'll be racing around a busier schedule, be into a sociable phase and finding your self-confidence is soaring.