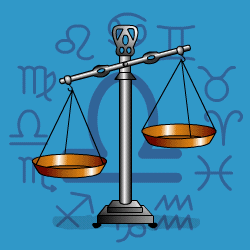 Libra
September 24 - October 22
---
Today's Horoscope for Wednesday June 23rd
You'll be confident, bright, breezy and bouncy with Jupiter around and you'll be aiming to develop your potential in one area of your life. It may be improving your finances or adjusting your keep fit regimes or changing your working methods. Having made up your mind what your focus is you'll be charming in an effective way and will use all your wiles to bring companions round to your way of thinking. If you can keep your ulterior motives out of sight then all will end well.
The Weekly Outlook from 21st June
Into a high-profile, hard-working few weeks ahead, you'll be taking the lead and expecting others to follow behind. This won't be a time to hide in a corner or under-value your talents. You should be gaining success even if, at times, you think you are not doing well. Ensure that others are not claiming credit for your achievements. If you avoid going on a wing and a prayer and thinking that everything is going to be wonderful without putting in the legwork, then you should surge ahead now.
Your Monthly Horoscope for June
No one will miss your exuberant enthusiasm, lively views or sparkling performance as you spread your favours and charm around. Having been held back by restrictions and complications you'll now be free to fly higher and broaden your horizons. If you can't travel you'll contemplate taking up new hobbies or studies to keep your mind active. Invitations to special social occasions will give you a chance to shine. Keeping up appearances will be a priority but remember to stay true to what you feel inside as well. Not all of your plans, domestic and otherwise, will run as smoothly as you'd wish in the first week, so grit your teeth and bear with frustrations. From the 11th you'll make faster progress in the company of friends and team mates with more hands making light work. Not doing everything yourself will mean you conserve energy. Into the final days you'll be at your peak for the year in career and community activities, taking the lead and getting recognition and respect.
and Next Month's Horoscope for July
At your peak for the year whether at work, in your community activities or even at home, you'll be taking the lead and expecting others to follow behind. You'll demand that your achievements and talents are recognised and generally be creating waves. This won't be the time to be a shrinking volet or hide in a corner. Energetic friends will also throw their support behind your activities though they may be a touch argumentative so it won't all be peaceful. Together you will make fast progress so you won't object to a few strong opinions being tossed around. Warm-hearted mates will make you know you are appreciated and welcome to visit whenever you feel inclined. One situation at home or with a family member after mid month will be tricky to handle. Stamping your foot won't work but you won't be happy to give way. Be subtle and strategic. You won't have to do quite so much in the final days with more help on hand.
Year Ahead 2021
Scattering off in all directions at once as you move into 2021, you'll have an exceptionally busy schedule for several months ahead and need to manage your time well, streamline your efficiency and speak clearly. Staying on top of details may not be your strength so you'll need to force yourself to be practical and observant. Luckily your talents as a communicator will come in handy since you'll get your message across loud and clear, as long as you keep your focus steady. But it won't be easy since nothing will stay the same for long, financially or emotionally. You'll be tempted to act hastily and then wish you had held back. You'll need to budget with the unexpected in mind, saving when you can and not over committing yourself. Offering a helping hand to loved ones may cut into your enjoyment time but you'll be learning lessons about the responsibilities of relationships. You will have a chance from time to time to kick up your heels and enjoy yourself without self-consciousness with your self-doubts receding. But there will be other phases when you need to make a determined effort to revitalise your social life.From May onwards for a few weeks and again late year you'll move into an enthusiastic phase at work or with chores and be feeling fitter and more energetic. Mid year onwards you'll set your sights higher, be looking further afield and be keen to broaden your horizons and inject more adventure into your life. You'll have grand plans and high enthusiasm as well as a vision of what you want ahead. Not all of your pet schemes will be workable but you'll be buoyed up by your passion for change and rising confidence.Your attitude needs to be one of resilience in the knowledge that overcoming difficulties and coping with tensions will lead to growing strength.