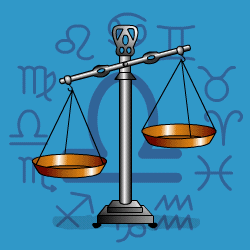 Libra
September 24 - October 22
---
Today's Horoscope for Wednesday November 20th
Maybe you are being slower than usual to make up your mind. But once you get on track nothing will budge you. Time on your own will be well spent since you'll be overly sensitive to emotional atmosphere and may become overloaded by other people's problems and feelings. So watch that you're not pulled into carrying everyone else's problems. Protect yourself from being drained too much or getting dragged into activities that don't interest you.
The Weekly Outlook from 18th November
Chatting nineteen to the dozen, you'll be skipping around a busier routine than usual. There may be less time for depth or detail than you might since you will be pulled in different directions, with more correspondence than usual to handle. Though you'll also have your eye on indulging yourself Mars now in Scorpio can make you intense and rather sensual, so pleasure will be high on your priority list. Just do not be too impulsive or reckless about taking on new commitments just to impress other people.
Your Monthly Horoscope for November
Dynamic Mars in your own sign until the 19th will keep your eyes pinned firmly ahead and you won't allow any distractions to slow your progress. There may be some tensions at home or within the family in the first week but thereafter you'll sail ahead in good style. Thoughtful gestures from everyday mates at work or in the neighbourhood will make you aware you don't have to move far to find appreciation and affection and you'll be charming in response. But really the focus will be on your personal finances all month with the Sun and then Mars in Scorpio. You may be tempted to spend but putting concentrated effort into boosting your security would be more sensible. The more you can put your foot down and demand your dues the better. No one should be allowed to pull the wool over your eyes or short change you. You'll be flying along in the final days, talking constantly and be on top form.
and Next Month's Horoscope for December
Rushing around at high speed, chatting constantly, you'll be scattered and rarely bored. But you'll need to manage your time well, streamline your efficiency and write out lists otherwise you'll end up going round in circles. Have a care also that you're not pushing yourself too much physically since your energy will slump at times. Really you'd be happiest curling up with a good book at home or snuggling down with loved ones. And slowly but surely you will find you slow down your constant go-go-go to take time out. Jupiter moving into Capricorn for a year ahead will bring more inner contentment and a reassuring sense of putting down roots. Relationships with the close and wider family will also mellow. You will continue for a few weeks to keep your eye firmly pinned on your finances since you'll know that perseverance will pay off. Luck will bring positive changes to ensure you feel more secure. Into the final days you'll start making plans for the adjustments you need to make to your home and domestic life to bring you fulfilment ahead.
Year Ahead 2019
Your everyday routines will be lively, enthusiastic and filled with fun encounters and new opportunities. Always a communicative sign, you\'ll excel yourself at putting your views across with a positive slant that brings favourable responses. You\'ll be more open-minded and find that by broadening your perspective luck comes your way. So you won\'t be holding yourself back. Your first priority early on will be to tackle home and family matters. It\'ll take effort and persistence but you\'ll know changes need to be made to bring you the security you want ahead. There may be tensions surfacing as old unresolved emotional issues come into the open. See the benefits of having a chance to sort them out once and for all, having given them a good airing. There may be minor tugs of war since not everyone in your close circle will have the same ideas about how to move ahead, so you\'ll have to be subtle and strategic. Being confrontational won\'t work. Finding time for friends and entertainment will also be on your agenda with the Leo Lunar Eclipse in late January pointing the way towards more sociable activities. Keeping a watchful eye on finances especially where you share joint responsibility with others - mortgages, credit cards, revenue etc - will be important with Uranus causing a few roller coaster moments. There\'ll be more comings and goings than usual which isn\'t necessarily a disaster, just that you need to save when there is surplus. From mid year you\'ll switch your attention to your career or community activities and take the initiative to ensure you are getting the recognition that your talents and achievements deserve. You will be distracted by emotional ties but try to keep your focus steady. By late in the year you\'ll be settling down in your own cosy nest and feeling contented within yourself.