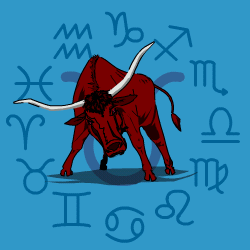 Taurus
April 21 - May 20
---
Today's Horoscope for Thursday April 18th
You will be drawn to a flamboyant lifestyle and want to indulge yourself. No one will easily push you off track once you know where you are aiming. Though this is a day when other people demand a lot of you. You are having to go out of your way to make sure that everyone is being well looked after. If you feel a bit emotionally squashed because of that, try and give yourself a few treats through the day.
The Weekly Outlook from 15th April
There will be moments during the week when you can put your feet up and feel happy-go-lucky. It may be that new love relationships are around, or that old relationships are just feeling better. Finding the balance between duty and pleasure, service that you owe to others and attention you owe yourself, is what is on your mind towards the weekend. You know you can't be an island unto yourself but equally you don't want to be pushed by demands from elsewhere.
Your Monthly Horoscope for April
When you can't fire ahead on all cylinders, you might as well take the hint and put your feet up more often. Until the 21st will be slow going and while you can always pull strings behind the scenes, you might as well also give yourself space to reflect and plan. You'll be keen to spread your opinions in all directions but they won't always meet with agreement so you'll need to be subtle in your handling of differences. Delays in travel plans will mean you need to rethink certain schemes before mid month. Happily, cash news should be good so you'll take heart and be more pro-active as the Sun moves into your birthday Sun in the final days. Then your enthusiasm and motivation will soar and you won't let anyone get in your own way. You may sound rebellious at times but you won't care what anyone says as you walk your own path and speak your truth.
and Next Month's Horoscope for May
Not normally a sign who rushes into decisions or high-speed action, you'll be feeling more motivated than usual to get various projects kick started in a hurry. Keen to forge ahead, you won't let anything or anyone stand in your way. Just have a care that you're not being overly optimistic about one financial matter. You may be taking your good luck or someone else's generosity for granted and could find you have to backtrack later. You'll be chatting away in grand style after the 6th making sure your views are being heard. You won't be as sociable or romantic as before just temporarily but you won't be short of an attentive audience. From mid month your charms will attract compliments and admiring glances. Though you may not stop long enough to really appreciate your popularity since an exceptionally busy everyday schedule will keep you running. Money will still be a major preoccupation since you'll Have the chance to earn more and be spending happily as well.
Year Ahead 2019
A growing sense of inner confidence and the realisation that your life is changing in positive ways will help you battle against a few challenges. Generosity will come your way from the universe in cash or in kind. Joint ventures will flourish and money will come in with less effort than usual. Better still you'll be dropping your emotional defences and drawing closer to the people who matter most. All of this will sustain you as you get embroiled in differences of opinion and belief. There'll be no quick n' easy fixes or agreements, so you'll need to knuckle down and stand firm for what you know to be true. Travel plans will be subject to delay and disruption so you'll always need have a Plan B up your sleeve. You will want to broaden your mind perhaps taking up new studies or hobbies but they'll need to be serious not frivolous and require intense concentration at points if they are to succeed and be fulfilling. You'll be exerting your independence in an obvious way from March onwards for a long time ahead, not caring what others think or so. You'll walk your own road, dress as it pleases you and be bolder about speaking your mind. Friends and companions who knew the old you will be astonished and in many cases admiring of your stand. Through the humps and bumps of what is likely to be a tricky year for everyone, you'll become increasingly aware that you need to manage your time better, streamline your efficiency and alter the way you communicate if you're to get your views across. Shouting louder won't work. Being persistent and listening to feedback will. Looking after fitness and health will be vital, especially in April and October. You're a stalwart sign so won't be overly affected but even you need to slow down once in a while. By December you'll be flying high and making grand plans for what comes next.