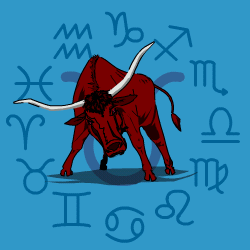 Taurus
April 21 - May 20
---
Today's Horoscope for Tuesday December 11th
You will certainly not be short of admirers, social invitations and compliments. So make the most of the good times and have fun. It will boost your morale and status. You have an uncanny knack of knowing where to put your energy for the best results. You also have an uncanny perception of what lies at a more fundamental level, and may sometimes be telepathic. Social niceties tend to be thrown to one side when you have decided on what you want.
The Weekly Outlook from 10th December
You will be feeling much more secretive than usual at the moment. You will not readily divulge what you are thinking, feeling or planning to any but your nearest and most intimate partners. And when you do speak out maybe you will sometimes express yourself much too forcibly. With Mercury in the deepest area of your birth chart this week, you feel very strongly about certain problematic situations, either financial or emotional, and you will not easily change your mind.
Your Monthly Horoscope for December
Energetic friends will be pushing you into forward gear but you'll refuse to be hurried along. You'll be keen to honour old obligations, and sort out confidential matters, financial and emotional. You'll be treading carefully being neither too submissive nor too demanding with those you share joint responsibilities with. You know you can't get it all your own way but will need to compromise to reach agreements which are fair to all. It will feel like a slow slog at times but endurance is your middle name. One plan may turn out to be a mirage around the 7th but you'll write it off as a learning lesson and move on. From mid month you'll redouble your efforts to find the answer to a dilemma which has seemingly no escape route. By the 20th you'll be beaming with delight as tensions lift and new opportunities point a new way ahead. The Capricorn Sun in the final ten days will lift your spirits and your enthusiasm as your intense mood lifts and you'll be off looking for pastures new.
and Next Month's Horoscope for January
Although the high-flying and adventurous Capricorn Sun is in place for three weeks, you'll be hard pushed to get plans, travel or otherwise, off the ground in a hurry. At times you'll reckon everything is conspiring to hem you in. There may be differences of opinions as well as delays. Luckily your strength is in your ability to just keep trucking, slowly and steadily, allowing nothing to interfere with your ultimate goals. Your feelings will be intense and hidden, so be careful not to exaggerate your reactions to those close. Have a care also with joint finances since you could be over hopeful about one scheme. Then with a jolt and a jangle you'll be free in the final week to take the lead and ensure that you don't go unnoticed. The family may complain they don't see enough of you but you'll have ambitions to push ahead and places to be. A confident though discreet word in the right ear on the 25th will bring a good result.
Year Ahead 2018
Your Eclipse year in 2018 divides into an ambitious, high-flying phase first half; and then after midyear, a home and family focussed phase. Making your mark and getting your talents out on display early on will be a priority. This is no time to be a shrinking violet. The support and enthusiasm of close partners will be there for you throughout. Not only will they keep your hopes high, you'll enjoy sharing more activities with them and dreams.rnYou won't feel as restricted financially and emotionally as you have been over the past two years. But your experiences have made you more resilient and given you the experiences which will stand you in good stead ahead. Your restlessness will not diminish.rnIndeed by mid year you'll be ready to throw caution to one side and be as rebellious and independent-minded as you please. This will be a major turning point for you, running on for years to come. You won't care what anyone says or thinks, you'll walk your own path. Just try not to get too heavy in discussions, since you'll be challenged on your viewpoint at times and may perhaps have to adjust your outlook. Money will roll through more easily towards the year end either through partner's generosity, joint ventures or just plain luck. You'll also be lowering your defences and inviting more intimacy into your life.