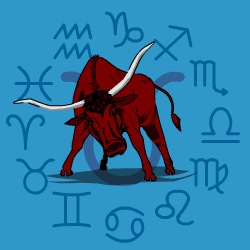 Taurus
April 21 - May 20
---
Today's Horoscope for Wednesday June 23rd
There'll be silver linings to cheer you up in an upbeat day. Looking ahead you'll see rosy glows on the far horizon and will attract optimistic support from friends with lots of morale boosting going on. In your love life, you'll have a definite need for excitement and thrills. You'll be tempted to exert power over others by nudging them into doing what they don't want to do. Be cautious, because in certain cases they'll respond by pushing back hard and you'll end up with a stalemate.
The Weekly Outlook from 21st June
Restless and versatile, you will spread your attention across a number of interests in coming weeks. You will know a little about a lot but maybe you are scattering your attention in too many directions at once. Try to put a few limits on your plans and be sensible as you persuade close companions to help. You can win them over to your side if you sweep them up in your enthusiasm. If you sound self-righteous, they will back away. Be straightforward and cheerful, and other people will adore you.
Your Monthly Horoscope for June
Pulling your personal finances together will be your priority, which will involve not getting distracted by unrealistic advice from friends or plans that haven't a chance of working out yet. You'll be tempted to spend as well as save so finding a balance will be crucial. There will be an aggravating difference of opinion up to the 5th which will slow your progress and no amount of pushing will help. Tolerance and your knack of pouring oil on troubled waters will help. Everyday friends at work or in the neighbourhood will go out of their way to make you feel admired and appreciated. From the 11th you'll be keen to reorganise at home which may not always go down well with loved ones who may object to being pushed around. You'll be hopping from one foot to the other, not clear whether to stick to tried and tested methods or be as rebellious and progressive as you'd like. Striking a happy balance will help. Into the final ten days you'll be making short distance trips and having fun encounters. The mood at home will be harmonious and affectionate.
and Next Month's Horoscope for July
Chatting constantly and skipping round a busy everyday schedule you won't be bored as you juggle several tasks at once. You'll need to manage your time well and be efficient or you'll get in a muddle. A few minor family dramas early on will test your patience but speaking your mind too directly may not lead to a speedy closure. If you keep your eye on the long term solution you are aiming for you'll do better. Your plans to reorganise at home either in terms of physical rearrangements or agreeing on emotional adjustments will take time so pace yourself. It won't all be accomplished in a day or even a week. Differences of opinion after mid month may have to be tolerated rather than resolved. Then you'll move into a more relaxing and fun social few weeks with loved ones around to make you feel indulged.
Year Ahead 2021
Hard work will be inevitable as heavier responsibilities will be landed on you throughout 2021 but you will be rewarded with praise and a boost to your reputation. As long as you stick to the straight and narrow and are conscientious you won't go far wrong. Whatever you attempt should work out better and more easily than you expect. However you will have moments when you want to kick up your heels and please yourself, no matter the consequences. But rocking the boat too much with partners or at work may not bring the results you want. It will, in general, be a roller-coaster year, with sudden changes and some tensions. Which is where your steady unflappable temperament will come in handy. You will be an invaluable help to those around since you'll stay calm and continue to plough the same furrow no matter what sudden changes there are. But even you know that where relationships and money are concerned you will need to share, care, relate and co-operate in a different way. Letting go the habits of a lifetime won't be easy but you will benefit greatly and find greater fulfilment and security if you can manage it. January and February will be problematic months with upheavals and disruptions. You will be powering ahead, not always patient with delays but it won't be easy to stick to a straight course. Your optimism will soar after May for a few months and friends will rally round with enthusiastic support. Your social circle will widen so you won't be short of invitations or good company. At times you'll lack motivation or commitment when it comes to sorting out longer term plans. You'll drift, dither and put off making firm decisions. For the sake of your financial security you'll need to push yourself especially from June onwards. Towards the New Year you'll have reached a significant crossroads in your life and be making up your mind which path to choose ahead. It needs to be your choice and will only be reached after a good deal of reflection.