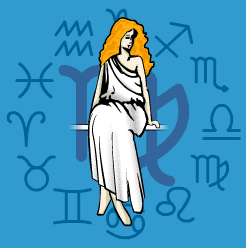 Virgo
August 24 - September 23
---
Today's Horoscope for Wednesday October 23rd
Chatting nineteen to the dozen, you'll be skipping around a busy routine in coming weeks. More letters and phone calls than usual are keeping you on your toes. There may be less time for depth or detail than you might wish since you will be pulled in different directions, with more correspondence than usual to handle. You won't be backwards in delivering your opinions. Try to add tact to honesty, and make it obvious to mates that you don't mean harm.
The Weekly Outlook from 21st October
Restless and versatile, you'll know a little about a good many subjects. Maybe you are scattering your attention in too many directions at once, or across too wide a field in coming weeks. Try to manage your time well and write out to-do lists. Towards the weekend cCertain people in your life will seem more of a nuisance than usual. You could end up feeling discouraged. Blame Saturn which is a wet blanket and can diminish your self-confidence. Stand up for yourself but do it tactfully.
Your Monthly Horoscope for October
As a practical though not very materialistic sign you are usually good at staying on top of financial details though not very possessive or greedy about acquiring more. This month, however will find you in overdrive, determined to make more, improve your security and get what you're owed. No one will short change or try to pull the wool over your eyes. Your spending may shoot up since pleasure will also be on your mind but security will come first. Thoughtful gestures from everyday mates at work and in the neighbourhood will make you aware you don't have to move far to find affection. It won't be grand passion but more than welcome all the same. Towards mid month there'll be good news about a domestic or family matter. And although your emotional relationships will be challenging and at times rather unsettled, you'll feel you're heading in the right direction. A busy final few days will keep you on the run, in a varied schedule, stretched but never bored.
and Next Month's Horoscope for November
Kicking starting your personal finances will be one priority and that means putting effort into improving your income or reorganising what you have more sensibly. As well as not spending to impress which could be a temptation. You'll also be racing around at high speed, chattering as you go with plenty of chats, visits and projects to keep boredom at bay. Make sure you write out to-do lists otherwise you'll get muddled. Taking time out to put your feet up at home will be a blessing. While you recline in your favourite armchair you'll ponder on how best to spruce up the decoration since you'll want beauty, colour and elegance around. Before mid month you'll know exactly what you want to do. An exceptionally busy final ten days will find you focussing on domestic matters and the family and speaking your mind vigorously. You won't have the chance to slow down and be diplomatic so loved ones will need to take you as they find you.
Year Ahead 2019
The good news is you'll feel happier at home, more content within yourself and be contemplating how best to improve your domestic set up. Relationships within the wider family will be easier as well with a generally hopeful mood about sharing ideals and hopes for the future. Which isn't to say you won't feel weighed down at times by the responsibilities that loved ones are landing on you. There'll be less time and energy for kicking up your heels socially. But that doesn't mean you shouldn't try to inject more adventure into your leisure activities and demand more attention for yourself. Your heart will yearn for more exciting trips and travel so make the effort to move out of your comfort zone once in a while. You'll be exploring new ideas and belief systems and opening your mind to a new view of the world. If those close scoff at your unconventional interests you won't care. April to June will find you battling ambitiously ahead, determined to make your mark and gain recognition for your talents. Though it'll be all too tempting to withdraw into your intimate surroundings and stay in your comfortable shell. After mid-year, you'll gear yourself up to sort out a long-term plans that gives you sensible goals to aim for and a practical strategy for making it work. A wider circle of friends will be around to keep you company and offer advice. In general you'll need to manage your finances with an eye to prevailing circumstances which won't be favourable for anyone. Tightening your belt and cutting out extravagances will boost your security and give you peace of mind. From December you'll move into a more buoyant, enthusiastic, sociable and confident phase which augurs well for 2020.