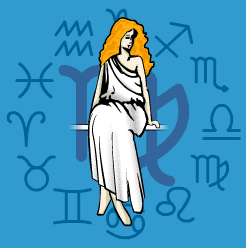 Virgo
August 24 - September 23
---
Today's Horoscope for Wednesday June 23rd
Laid-back and not motivated to exert yourself, you'll be relying on a wing and a prayer to sort out problems. If you can be realistic, you'll find you get faster results. Close friendships will be important as you'll want to be around the right people who will boost your self-esteem and make you feel good. Your other priority will be to feel free to flit around as it suits you without being restricted. Established relationships may go through a tense phase, if you have a possessive partner.
The Weekly Outlook from 21st June
In coming weeks there will be safety and security in numbers for you with the Sun moving through Cancer which is your chart area of friends, team relationships and future plans. You won't want to fly solo or be part of a tight twosome. The more the merrier as far as you are concerned. You shouldn't expect to find too many difficulties this week with Jupiter around. The only downsides will come from spending too much money, being lazy or thinking you're right about absolutely everything.
Your Monthly Horoscope for June
This is your month to shine, let your talents be seen and demand recognition for your achievements. It'll be hard-working as you take the lead and insist others follow along behind but you will at least feel you're attracting the right kind of attention. Apart from a few fraught days early on your relations with friends and team mates will be agreeable. Just try not to cause too many waves demanding your own way up to the 5th. Thereafter your knack of putting everyone at ease in group activities will make you welcome whenever you feel like being out and about. You may have to bite your tongue or put certain plans on hold after the 11th since you're moving into a few weeks where circumstances won't allow you to be as pro-active as you might like. Treading water and back-tracking to unpick mistakes will be wise and you'll find that with subtle persuasion you'll get others to dance to your tune. Into the final days, you won't have to be the trailblazer and leader, as you throw yourself wholeheartedly into co-operating with your best buddies. More hands make light work.
and Next Month's Horoscope for July
Holding fire on certain projects doesn't mean they won't happen. You'll have time to refine your ideas, pull a few strings behind the scenes and prompt those close to action what you can't. You're always good at being a backroom person so won't mind too much lying low for a few weeks since you know the way ahead will clear soon. Friends will rally round with support and sensible advice as you look ahead over immediate delays and start to sort out a strategy and a game-plan for yourself. Ensuring you don't over commit yourself and push past your physical limits will be important as you streamline your fitness regimes. Though the odd surprise event may propel you into speedy action at times. Your mischievous sense of humour will rescue a few tricky moments after the 11th. Try not to be overly forceful or too intense just after mid month. Live and let live needs to be the way to go. Your social life will bounce back to good form in the final days though you'll be content to wind down and relax when you can.
Year Ahead 2021
As an earth sign, you're usually on top of practical details, tuned into your body and well organised about fitness and dietary matters. But you're also highly strung and can be jittery when there's too much confusion around. You'll need to be rigorous about scheduling quiet time for yourself throughout 2021 to recentre and wind down. The world at large will be following a winding path with hitches, glitches and economic woes, which will impact on you, less in financial terms than in concerns for others. Your opinions may not always meet with agreement but you won't care since you'll insist on speaking your mind and following your own path. Your focus in the early months will be on family and domestic matters since you'll want to put changes in place that will bring you more security and stability ahead. Which won't mean you'll be able to avoid hard work since Saturn in Aquarius will make duty and service to others inevitable. Not over-committing yourself and pushing past your physical limits will be crucial. You'll need to take whatever steps are necessary to boost your stamina and force yourself to delegate. It won't be difficult to find enthusiastic support from those around so you should be OK. One close relationship will flourish for a few weeks after the middle of May and again from late December through next year. You'll begin to see clearly which connections in your life have potential for development and which you will be happy to let drop with a minimum of regret. After the middle of the year you'll switch your attention to work and your community activities. You'll have a niggling feeling that it is now or never for success. That isn't necessarily true but the motivation won't do you any harm. You'll take your courage in both hands, push self-doubts to one side and insist that your talents and achievements are recognised.