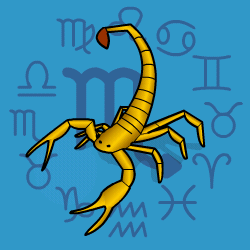 Scorpio
October 23 - November 22
---
Today's Horoscope for Wednesday June 23rd
If you think you're right about everything then you could be wrong. There will be uplifting influences today but there is a slight risk of you becoming so filled with your own ideas and confidence that you get self-righteous. Your emotions will also be in a heightened state so if someone you fancy seems fascinating watch your step slightly. You could be infatuated or compulsive. Maybe you know in your heart of hearts that they are not what you need but will find it difficult to let go the dream.
The Weekly Outlook from 21st June
Into a high-flying, enthusiastic and adventurous few weeks ahead, you'll be coming across as honest, outgoing and good with words. You'll be popular at work and in your leisure activities because of your positive attitude. You'll always look for silver linings even in tricky situations and may even create a few yourself. In fact it won't be so much luck as your intuition work well. You'll end up in the right place at the right moment, saying the right thing.
Your Monthly Horoscope for June
The Gemini Sun until the 21st is moving through the deepest, most confidential area of your chart, so your emotional responses will be intense. You'll be prompted to sort out financial and emotional matters, to reach new agreements and to see where you can leave old baggage behind. Not everything will go the way you wish so you'll need to compromise and find a middle ground solution where there are differences. Luckily your social life will be light-hearted, even adventurous, as you mix with a fun crowd and search out challenging leisure activities. A loved one may not offer the support you want towards midmonth but a forgive and forget attitude will ensure life gets back to normal quickly. A hard-working, ambitious few weeks after the 11th will keep you occupied and rarely bored. You'll expect everyone around to be on their toes and will be issuing orders left, right and centre. You'll emerge from what will have felt a restrictive phase after the 21st to aim high, think big and not allow anyone to damp your enthusiasm.
and Next Month's Horoscope for July
With a head full of grand plans and enthusiastic opinions, you'll be on your toes raring to go. Adventure will be on your agenda and even if you can't travel to find it, you will lift your life out of a rut and ensure there's plenty of lively challenges in your daily routines to keep you intrigued. At times you may come across as bossy since you will expect everyone around to dance to your tune and move at your speed. A loved one may be critical or presenting you with a problem to solve. You will try your best though you may not have enough time or energy to cope with everything. You'll need to prioritise and manage your schedule and commitments sensibly. There will be an opportunity to speak more freely after the 11th so that will clear the air. But taking everything to heart or getting resentful won't help after mid month. Lighten up. Affectionate friends will wave away your cares after the 22nd and though you'll still be coping with a busy lifestyle you will feel appreciated.
Year Ahead 2021
Your material security in terms of money are being highlighted by the Eclipses through 2021, which doesn't mean problems. It's more a hint that if you take the initiative with your long-term future in mind then you'll get better results. The first half year will find you suppressing the urge to throw money around to impress, knowing full well that saving more and getting new schemes underway will be a more sensible approach. Your other priority will be to resolve family tensions, sort out practical domestic problems and reach better agreements with close partners. You'll be kicking against restrictions, yet need to stay persevering when there is no alternative. Being tolerant of the differing needs of those close will help to maintain equilibrium. Both of you need to offer the other a good deal of space to pursue your own individual interests. From May for a few weeks and again late year your social self-confidence will rise and you'll push old self-doubts to one side, stepping out boldly. You'll notice an improvement out on the party scene and at work as well. As you put a higher value on yourself you'll find others do as well. From June onwards for a few months you'll be prompted to share, care, relate and co-operate in a different way both over emotional as well as financial matters. Changing the habits of a lifetime won't be easy but if you want fulfilment and prosperity ahead you'll need to try. Negotiating better agreements with those who share responsibility with you over money will require compromises on both sides and won't happen overnight. As a fixed, enduring sign, you'll be better placed than most to stand firm through the tricky patches. You'll take the rough with the smooth, enjoy the triumphs and sunny patches, and push on determinedly through the bumpier phases.