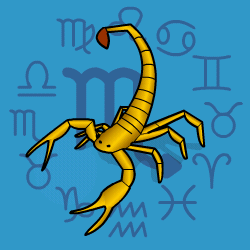 Scorpio
October 23 - November 22
---
Today's Horoscope for Thursday April 02nd
Working hard in a focussed way to gain more attention, you will be practical, conscientious and serious. You'll reckon you're not going to get enough attention at home, so you'll be out and about at work and in your community activities, being responsive to the mood around you. You'll be good about handling group situations, since you'll be putting your ambitions across in a protective way. Whatever happens at home try to avoid confrontations.
The Weekly Outlook from 30th March
There may be disagreements at home or within the family and a heated mood. Try not to say too much in the heat of the moment even if you feel a loved one is acting unfairly. Blame Saturn which is a real wet blanket. When it is around strongly you can lose your self-confidence. Stand up for yourself but do it tactfully. There will be a promise later of a generous present or even money coming in unexpectedly. One situation will suddenly be looking much brighter.
Your Monthly Horoscope for April
Settling into a steady work routine won't be easy but will give you focus and keep you away from distractions at home. You will be frustrated and irritated by certain plans going slow but taking your aggravation out on the family won't help, since it won't be their fault. Soak up your energy by doing a spot of domestic reorganisation. Looking after fitness and health will be important if you are to fulfil all your obligations. You will be tempted to over commit yourself as your enthusiasm runs away with you. So try to trim back on the scale of your expectations. You will be voicing your opinions with a fair amount of vigour but no one will complain. Mainly companions will be swept up with your confidence. Your emotional life will be secretive since you won't let on to any but your most intimate partners what you are feeling. In the final days you'll be aiming for togetherness though there'll be a few ups and down.
and Next Month's Horoscope for May
Close partners will be there with encouragement and a helping hand in a month when togetherness will be key to your happiness and peace of mind. You'll also be persuasive and finding your words have more influence than usual which will be morale-boosting. Family tensions will gradually start to fade so it'll be wise before the 13th to say less and listen more. Thereafter you'll roar into top gear for a few weeks, full of vitality and passion, keen to enjoy yourself and get your own way. Just try not to boss loved ones around since they won't appreciate it. Your everyday routines will be livelier and more fun around the 17th. Though in the final ten days you'll be hunkering down to focus on confidential matters, financial and emotional, keen to reach better agreements.
Year Ahead 2020
2020 will be all about communication for you in an everyday schedule that will be challenging and pressured at times. You'll be inclined to take certain situations or comments to heart, looking for a hidden significance in everything. And being tempted to withdraw if your opinions don't meet with agreement. But it would be a mistake. Listen to feedback and where necessary alter your approach. Try, try, try again should be your motto and you will eventually get your message across. Gradually you'll notice a growing sense of confidence in speaking your mind and because you'll be tolerant and less blinkered, you will be respected for your views. And you'll begin to realise that what was holding you back wasn't bad luck but too limited an attitude on your side.rnYou will want more elbow room in close partnerships with each of you happy to allow the other to go their own individual way. It will mean that co-operation won't always be easy since it'll demand compromise. At home you'll be putting in effort after March to sort out practical problems and also to address any family tensions which emerge. If you go about it tactfully then you can clear old resentments out of the way once and for all. Though it won't always be easy to stay calm.rnFrom July onwards you'll be working exceptionally hard and staying on top of detail. You will tend to be a perfectionist, assuming you're the only one who can do tasks well, which means you'll land yourself with too many commitments. Looking after fitness and stamina will be important. And being cautious, since you could be slightly accident prone at times if you over burden yourself or get impatient with mistakes and end up tripping over your feet.rnTowards the year end you'll focus on your finances since being pro-active will bring results and be aiming for a calmer phase on the home front.