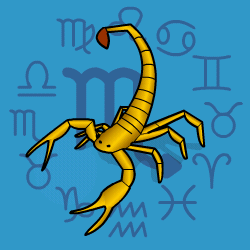 Scorpio
October 23 - November 22
---
Your Birthday Horoscope
IF ITS YOUR BIRTHDAY TODAY your year ahead will be lucky where cash is concerned though you'll spend it as fast as it comes in. Easy come easy go will be your motto but saving some for s rainy day would be wise. Certain pet projects will be on a go-slow so be patient, pull strings behind the scenes and keep planning and preparing. Close partners won't always be on your wavelength so give each other a long rein. If you feel disappointed by a loved one's actions, be forgiving.
Today's Horoscope for Wednesday October 23rd
You will bounce around with high enthusiasm. Having been held back recently by setbacks, delays or just low energy and less motivation you will now be forging ahead. This is the start of your birthday month so you fully intend to suit yourself. You will need to work out what will suit you, get cracking with plans and once you have got yourself together, you can concentrate on close relationships. You will need to pause to think before you speak.
The Weekly Outlook from 21st October
Where others are concerned what they get with you is what they see. You will not hide much away, indeed you are priding yourself on being as upfront as possible with your birthday Sun in place. Not that you put on any effort or a performance, it is just happening instinctively with your natural effervescence spilling over. Though later in the week you'll be irritated by a seemingly unsolvable problem. What can you do? Get real for one thing. Once you accept the bottom line, then everything becomes much easier to handle.
Your Monthly Horoscope for October
This is always your month for going slow at least for three weeks. Take time out to stand on the sidelines and let others take the strain while you look back over the past year, reflect, plan ahead and recharge your batteries. You will be frustrated by delays in certain projects and your inability to be as pro-active as you might like. Being patient will help since you can't push the river or turn the tide before the right time comes. Your everyday schedule will be pressured with some communication glitches. When you feel you aren't getting your message across, then you'll need to be persistent. Lightening up will also help and keeping your sense of humour handy. Money will come in just before mid month to put a smile on your face and you will be complimented on your appearance. If you turn on the charm you'll slide round a few edgy situations. Your birthday Sun from the 23rd will boost your energy and confidence. Though you'll be less than co-operative as the month closes.
and Next Month's Horoscope for November
Although one pet project will be on a go-slow which will be frustrating and irritating, on the whole you'll be bouncing along enthusiastically. Your birthday Sun till the 22nd and energetic Mars in your own sign thereafter guarantees you won't be taking life lying down. You'll be tackling problems head on with a good deal of vigour. You'll also be tempted to overspend by irresistible treats which float under your nose. There will be good luck on the cash front before mid-month which will bring in surplus for the odd indulgence. Mars in your own sign will rev your engine in the final days and you will steamroller over anyone who tries to get in your way or distract you. Just try not to over react or be too uncompromising since it may backfire with one close partner stomping off on their own pursuits. Rough edges will be smoothed over after the 26th.
Year Ahead 2019
A non-stop-go schedule for the first half year means you'll need to manage your time well, get organised and communicate clearly. Too much rushing around can run the risk of messages getting lost or misunderstood. If you feel cold-shouldered or that your views are not getting the right kind of attention then you'll need to rethink your approach. Don't become discouraged and withdraw. Be persistent. Close relationships will be moving into a changeable phase where both of you need more elbow room. With tolerance and an appreciation of partner's need for more independence as well as your own, you'll manage well. Though with the pressure of events and pulls on your time and energy, you may not always have a chance for sensible heart-to-heart chats. When you do, you may express yourself a touch too forcefully or be looking too much on the negative. Lighten up and keep your sense of humour handy. If loved ones, especially children, come across as evasive or inaccessible, not there when you need them, or worse try to lean on you, be firm about them standing on their own two feet. After mid year you'll want to shrug off restrictions and fly higher, allowing your imagination and sense of vision to point your way ahead. You'll find more stimulation and adventure and be broadening your horizons with determination. August will be a month to flaunt your talents and push ambitions ahead vigorously. Money should roll in faster all year though it'll probably disappear as fast since you're likely to be spending happily. Try to save some of your good fortune for a rainy day in later years. In the final month you'll notice more smiles and morale boosts in your everyday schedule. You'll be increasingly tolerant and positive-minded which will prove a hit with those around.