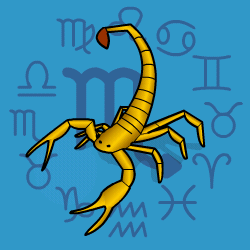 Scorpio
October 23 - November 22
---
Today's Horoscope for Saturday February 22nd
New relationships which appear now could be adventurous and exciting though also erratic and unpredictable. You know it is important to try out new ways of co-operating. There is a definite feeling of change in the air, but if you can find the courage to go with it you will find more interest, stimulation and potential in the days ahead. You just want to be away from restrictions or anything pushing you into a corner. Just don't go upsetting the applecart and causing too much disruption.
The Weekly Outlook from 17th February
The Pisces Sun in place for the next four weeks in your chart area of love, children, entertainment and self- expression will boost your morale. You will be more dramatic, fun-loving, attention seeking than usual. All those areas of your life that have become stale, dull and lifeless will become unsupportable. You'll be prompted to see there is a different kind of life out there if you are willing to take the odd risk, face up to the unknown.
Your Monthly Horoscope for February
Tucking yourself quietly out of sight at home or in familiar surroundings, you'll want a protected three weeks to snuggle down and push away hassle and aggravation. Finding time for heart-to-heart chats and private reflection when you can get the events of the past year into perspective will give you peace of mind. Being helpful to loved ones will bring rewards in time but for the instant you'll be happy to give and feel you are being of service. You may also be overeating since you will be in the mood for an odd treat so try to keep up your exercise regimes. By midmonth you'll start to see results from your efforts to build up your personal finances and be more than pleased with yourself. Thereafter you'll gradually start to move into a higher gear with a busy everyday schedule and even better a fun social phase hoving into view. You may not always be tactful or co-operative but your mischievous approach should win you admirers and an appreciative audience.
and Next Month's Horoscope for March
The affectionate support of a special close partner will make you feel warm and wonderful inside and you'll also be in demand out on the social scene. Your knack of making everyone you meet feel special will boost your popularity and make you welcome wherever you go. Enjoyment and entertainment will be your priority though a loved one may prove a minor disappointment as you pitch your hopes too high and they prove to be weaker than you expected. Forgive and forget and move on. There'll be enough invitations coming your way to make up for any slight dips. Your everyday routines at work and out in the neighbourhood will be enthusiastic with compliments flowing your way for your knack of communicating well. In the final ten days you'll settle back down to hard work, knowing that chores won't go away and that practical problems in your domestic arena need a solution. You may get frustrated with a pet project going slow, but try not to take your irritations out on loved ones.
Year Ahead 2020
2020 will be all about communication for you in an everyday schedule that will be challenging and pressured at times. You'll be inclined to take certain situations or comments to heart, looking for a hidden significance in everything. And being tempted to withdraw if your opinions don't meet with agreement. But it would be a mistake. Listen to feedback and where necessary alter your approach. Try, try, try again should be your motto and you will eventually get your message across. Gradually you'll notice a growing sense of confidence in speaking your mind and because you'll be tolerant and less blinkered, you will be respected for your views. And you'll begin to realise that what was holding you back wasn't bad luck but too limited an attitude on your side.rnYou will want more elbow room in close partnerships with each of you happy to allow the other to go their own individual way. It will mean that co-operation won't always be easy since it'll demand compromise. At home you'll be putting in effort after March to sort out practical problems and also to address any family tensions which emerge. If you go about it tactfully then you can clear old resentments out of the way once and for all. Though it won't always be easy to stay calm.rnFrom July onwards you'll be working exceptionally hard and staying on top of detail. You will tend to be a perfectionist, assuming you're the only one who can do tasks well, which means you'll land yourself with too many commitments. Looking after fitness and stamina will be important. And being cautious, since you could be slightly accident prone at times if you over burden yourself or get impatient with mistakes and end up tripping over your feet.rnTowards the year end you'll focus on your finances since being pro-active will bring results and be aiming for a calmer phase on the home front.