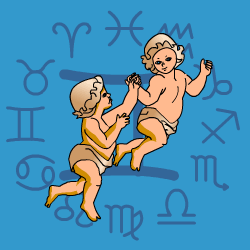 Gemini
May 21 - June 21
---
Today's Horoscope for Wednesday October 23rd
Knuckling down dutifully to do as much as possible for a few weeks ahead you'll know you need to be fitter. You will be reviewing your physical lifestyle and treating your body like a machine that needs the right treatment, good fuel and maintenance stops along the way. Companions may be quailing when you come around since you are so observant. Try to let them know your intentions are basically good hearted behind your rather clinical approach.
The Weekly Outlook from 21st October
You'll be practical and keen to get details in the right place in the weeks ahead. You are less worried about getting praise, than in being helpful and being of service. If you can be patient and knuckle down to tackling small tasks in a meticulous way, you will fare better. But you will tend to be erratic towards the weekend. You'll be dutiful for a while, then resentful, at which point you'll fly off the handle. Be prepared to grit your teeth and say less. Be cautious as well since you could be accident prone.
Your Monthly Horoscope for October
A fun loving Libra Sun should bring thoughts of romance, games, entertainment and enjoyment. And there will be time and space for all of the above. But you will also run into irksome problems which only you can tackle, either financial or emotional, or both. At times you'll complain that the universe is treating you less fairly than others as you'll be left to find the answers and put them into practice on your own. The one consolation is that you'll find you're stronger and better able to cope than you might have imagined. So you'll be able to pat yourself on the back. Towards mid-month a partner will step in with a helping hand and words of cheer so you'll know you're moving in the right direction. Gradually duty and work will take over so you'll need to push aside socialising to settle down to sort out practical matters. Try not to force through a decision on money late on with a loved one since it may backfire.
and Next Month's Horoscope for November
Full of vim, vigour and bounce you'll be burning the candle at both ends, keen to have fun and knowing that the chores won't do themselves. Staying fit and healthy and boosting your stamina will be the name of your game for the next two months so sort out a regime and stick to it. That way you'll manage to pack everything into your schedule. The affectionate support of one partner won't be in doubt and you'll be popular out on the social scene. Your ability to make everyone you meet feel special will be your winning trick. There will be a few delays with one secret matter, perhaps financial, so don't count your chickens until they are hatched. It'll be a swings and roundabouts month and as one set of pressures lifts another will arrive to take its place. The final ten days will find more support coming your way from a close partner, but also more demands on your time and energy from tasks which only you can fulfil well. Try not to over commit yourself.
Year Ahead 2019
A slow start to the New Year will find you pondering fundamental questions about the whys, wherefores and whither of your life. Freeing yourself up from old obligations will be one priority. As a restless sign, one of the wanderers of the zodiac, you dislike being tied down. There will be no fast answers so you'll need to be persistent. At times you'll feel thrown back on your own resources with less support than usual, financially and emotionally. But through your experiences you'll grow stronger, more resilient and better able to cope ahead. Socially you'll be on good form, with your enthusiastic approach winning you compliments and admirers. One relationship will develop in ways you could not have imagined before. Other bonds in your life which have no potential for development will be quietly dropped with a minimum of regret. What will bring more fulfilment and satisfaction will be altering the way you share, care, relate and co-operate. Not a simple ask but the results will be well worth the effort. From April your engine will be revving and nothing will hold you back. OK at moments your over confidence will send you sailing into decisions that might have been the better of more thought and preparation but the momentum of your exuberance will carry you through three exciting months. From mid year you'll be focussed on sorting out your personal finances and taking the initiative to ensure you are building security for yourself ahead. You may be tempted to throw money around to impress but partners and circumstances will put the brakes on your wilder extravagances. Towards the New Year, there will be a surge of confidence as money and more support come your way, pointing to positive changes ahead.