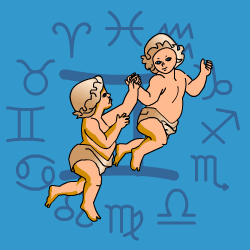 Gemini
May 21 - June 21
---
Today's Horoscope for Tuesday December 11th
You may be more reserved when it comes to expressing your romantic needs. You need to make more effort to show your inner warmth. Maybe you have too much work on your plate, but if you make loved ones feel excluded or demand too much in the way of responsibility from them you run the risk of dampening what could be fun times. You should be able to settle old differences amicably and see clearly which relationships have room for development.
The Weekly Outlook from 10th December
Maybe you feel more vulnerable than usual with the Sun in your opposite sign this week, but there is support around if you look. Ask for what you need, but be prepared to compromise as well since relationships always mean give and take. Find reliable, energetic mates on whom you can lean. You will go well out of your way to avoid boors, bores and mates who get on your nerves. You want interesting conversations with people who are on your wavelength.
Your Monthly Horoscope for December
Sometimes a wandering sign who prefers to mix n' match with friends rather than sticking close to your partner, you'll surprise yourself by welcoming togetherness. You may be feeling marginally vulnerable so the support of your special other will make you feel more secure. You'll also be in demand socially for your knack of making everyone you meet feel special. You will be pushing ambitiously ahead at work or in your community activities but running into a few muddles where schemes don't come up to your expectation. If you go with the flow, be helpful to others and forget about success and personal glory you'll fare better. Close partners will be keen to hear your views so don't hold back from the 12th. Your clear insight into tangles will be of benefit to them. A friend will spring a fun surprise towards the 20th which will make you laugh and set your mind racing along a new track. The final days will be more secretive, inward looking and you'll be digging deep for answers to fundamental questions. Sorting out joint finances will also give you peace of mind.
and Next Month's Horoscope for January
Mars will be urging you onwards to sort out long term plans with energetic friends giving an additional nudge. But you won't be able to move ahead until you've sorted out old obligations and unpicked a few confidential tangles, emotional and financial. It'll all be slower going than your hyper-active spirit appreciates but the new agreements you make now will stand you in good stead in the future. Keeping your head down and pushing on will be part of it. The other with a Capricorn Solar Eclipse in place is a hint that you need to alter the way you share, care, relate and cop-operate in whatever sphere of your life will help. Changing the habits of a lifetimes isn't easy but the results in the time ahead will be encouraging. Happily romantic, sociable Venus is in your opposite sign from the 7th so the affection of one special partner will be there and you'll be in demand at parties for your knack of making others feel special. Your modo will lighten and brighten from the 20th with a chance to spread your wings and be more enterprising.
Year Ahead 2018
More serious than usual as 2018 opens, you'll be carrying heavier responsibilities, financial and emotional, for loved ones and partners. You will feel thrown back on your own resources for a while but will grow stronger as a result of coping and the lessons you learn will stand you in good stead for the future.rnLuckily you'll feel healthy and recover quickly from minor ailments with Jupiter in Scorpio till late year. Workmates will be enthusiastic and supportive so you should whizz on through your chores. If old obligations weigh on you, this is no new thing, just a reinforcement of the message that no life is entirely carefree. Change what you can and accept what you can't. That way comes peace of mind.rnAdventurous and zany friends will keep you well entertained early on, with plenty of fun diversions. Keep your sights high and aim to broaden your horizons however you can. A sea change midyear will find you exploring secrets and your own hidden depths. Life will bring moments of insight and enlightenment especially in the quiet times.rnA busy phase after midyear means you'll need to manage your time well, streamline your efficiency and start making out to-do lists otherwise you'll end up running in circles. Money should come in through your own efforts, though overspending to impress won't be wise. Late in the year close relationships of all varieties will flourish. Your positive approach will prove infectious so your popularity will soar.