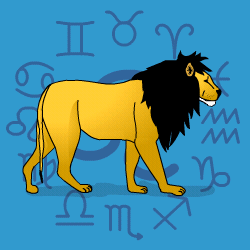 Leo
July 24 - August 23
---
Today's Horoscope for Thursday April 02nd
You will be fidgety with the Moon in your own sign. More than usual you will want to be loved, nurtured and protected. And because all you want is favourable attention, you will be racing around trying to please. Over eating could be a hazard today since you will want to comfort yourself. Maybe you will be too sentimental or too sugary sweet on the surface. Try to be more honest about your feelings underneath. Really what is important is to have solid, reassuring, anchoring kind of mates around.
The Weekly Outlook from 30th March
If you can make your goals modest early in the weeks then you'll get several tasks done well. But if you aim too high or get too enthusiastic you could come unstuck. It's all a question of attitude and approach. Around one close partner, tread gently since neither of you is in a mood to cooperate. Later you'll be roaming around chatting animatedly, flirting like mad but never staying long in one place. Your popularity will not be in doubt, since your mischievous manner is keeping everyone entertained.
Your Monthly Horoscope for April
In an enthusiastic mood you'll be keen to spread your wings and be more adventurous. You'll be offering your robust opinions to anyone who'll listen and pushing your pet causes for all you're worth. Warm-hearted friends and team mates will be welcoming since you'll have a knack of encouraging and motivating everyone in the group. Your closest partner will be fired up and raring to go but won't always be tactful. You'll do best to avoid arguments and act as peacemaker though it won't always be easy. You will want to go your own way at points even if it causes a rift. Try not to over commit yourself with projects since you may be a touch over confident in your planning. Your peak for the year comes after the 19th for a few weeks when you'll work hard, take the lead and attract recognition. Though you'll find one partner less than helpful.
and Next Month's Horoscope for May
In a high-profile few weeks, attracting attention and appreciation, you'll be where you want to be. There will be no shortage of hard work but you'll be taking the lead and expecting others to follow behind, which will suit your need to be seen as important. Your energy should stay high but you'll need to watch not to over commit yourself. Being aware of the lessons of the past year where fitness is concerned will be crucial. Close partners may be fired up and more critical than usual. Try not to rise to provocation since it won't help. After the 13th you'll be better at keeping your sharper comments to yourself, though you may simmer in private. You'll be determined to resolve financial and emotional dilemmas and will push hard to find answers. It won't be a quick n' easy process so you'll need to settle for patience and persistence. After the 20th you'll be happy to pitch into team and friend activities, being one of the crowd, rather than always out in front on your own. Sorting out plans for the next 12 months will be a preoccupation with plenty of advice coming your way.
Year Ahead 2020
2020 may not be your favourite year as a fiery, inspirational, sailing-along-the-top-of-the-cloud-tops kind of personality. The heavyweight Saturn Pluto conjunction in sombre Capricorn will weigh you down at times with too much work, duty or demands on your energy. Staying fit and healthy will be crucial if your stamina is being tested and not pushing past your limits will be important. Learning to listen to your body and respect its needs may come hard since you're not naturally attuned to the earthly realm. But you won't get away with over stretching yourself. What will help is Jupiter following behind which is expansive, supportive, good for confidence and curing minor ailments.rnYour career path and general life's direction will follow the same roller coaster trajectory as last year. One moment you'll be up and the next moment you'll find everything slows down. Just as you lay solid plans you'll find events overtake you and they have to be revised in a hurry. So you'll need to always have Plans B, C and D up your sleeve for emergencies. You won't feel like co-operating or toeing anyone else's line so organise a corner where you can be in charge and please yourself.rnJoint finances will be under confused stars so don't trust all the information or advice coming your way.rnClose relationships will move into a cooler few months from March which won't be a problem where the bond is secure. But there may be more negativity or criticism hanging around and you'll tend to see the flaws in partner's behaviour rather than appreciate their plus points. Try not to go to extremes in your reactions.rnAfter mid year you'll be aiming high, keen to inject more adventure into your routines, with travel if possible. Though it'll be a bumpy ride out in the universe so staying close to home and finding a new hobby might be wiser.rnTowards next New Year your social life will be revitalised and you'll be less weighed down by practical concerns.