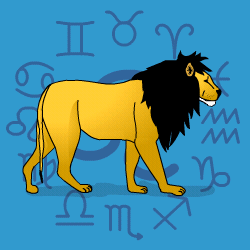 Leo
July 24 - August 23
---
Today's Horoscope for Wednesday June 23rd
You may be tempted to overspend and indulge yourself. Try not to assume if you let money float out of one hand, it'll float back in the other. You could be right but an easy come, easy go approach may end up in a minor budget crisis. Certain close emotional relationships will be intense, either more passionate or embroiled in a tug of war. If the mood gets gritty, you will struggle to break free. Don't over react to the odd stress and strain. Rise graciously above it all.
The Weekly Outlook from 21st June
Not at your most outgoing and sociable, you will be happiest on the side lines for a few weeks, letting others do the running around. Even your own company will not be a hardship for short periods though obviously not all the time. This week you may need to keep your feet on the floor and find self-discipline. Otherwise you will promise more than you can deliver. If you're not careful you could over-extend yourself and take on too many commitments at exactly the time you should be cutting back.
Your Monthly Horoscope for June
In a friend-filled, forward-looking time, you'll be keen to sort out plans for the next year and will be asking for feedback and advice. Though oddly you won't be as sociable or romantic as usual and will be giving more to loved ones than you're getting back, so look after yourself well in the quiet moments. It's only a temporary phase so not a problem. Pushing against restraints and restrictions up to the 5th will be a waste of energy. Accept what you can't change and leave well alone. Dynamic Mars moving into your own sign after the 11th will zip up your courage, enthusiasm and motivation so you'll forge ahead, sweeping obstacles to one side. Have a care with a cash matter around the 13th since information coming your way may be unreliable. Into the final days you won't know whether to keep your foot on the accelerator or to ease back. The answer is you need to do both. Find time for rest and relaxation and understand certain projects can't be actioned yet and keep pushing where you can make a difference.
and Next Month's Horoscope for July
You'll be pushed and pulled by two entirely opposing impulses. Dynamic Mars in your own sign will put fuel in your tank and a steely glint in your eye. You'll sweep obstacles to one side and put your foot on the accelerator. But a retiring Cancer Sun in the sign before yours for three weeks is a hint to slow down, put your feet up and let others take the strain. You'll need to pace yourself and schedule in rest and relax time as well as phases of hyper-activity. Close partners may not be on your wavelength in the first week so tread gently, rather than getting too critical. Keeping your own counsel will be best and saying less after the 11th. Your energy won't be limitless after the middle of the month for a few days so take the easy way out of problems and chores. In the final days you'll treat yourself liberally, spending money on presents for yourself and firing ahead with great enthusiasm.
Year Ahead 2021
Your social and romantic life and close relationships will be moving through a blow-hot, blow-cool year in 2021 with nothing standing still for long, though it won't be as leaden and discouraging as last year. Certain relationships will blossom as you share new activities and hopes for the future together. Though there will be points where you will be looking with a critical eye at partners and pointing out their flaws, which needless to say won't go down well.If you can value loyalty above passion and recognise that trust and dependability are vital then you'll weather the chilly patches and emerge stronger as a couple. The Eclipses will prompt you to put effort and energy into your leisure activities for a few months. Putting yourself in the centre of attention and ensuring everyone else whether loved ones or friends is being given affectionate support will send your popularity soaring. After the middle of the year, you'll want to mix and match and be free to flirt and have fun with a wide circle of acquaintances and best buddies. You will have to contend with sudden changes of direction at work or in your life since there won't be anything too settled about the world at large. Tensions may surface as you fight a battle with yourself as to whether to stick to the tried and trusted or to venture into the unknown and tread an unfamiliar path. Your tendency will be to stick with what you know but taking the odd risk will help. After the middle of May for several weeks your luck with money will bring larger sums your way with less effort and that happy state of affairs will return before the New Year, so you'll be feeling more secure. Though Neptune will continue to hang around as it has done in recent years adding a layer of confusion to joint finances. You'll need to continue to be alert for unreliable advice coming your way from close partners and others.