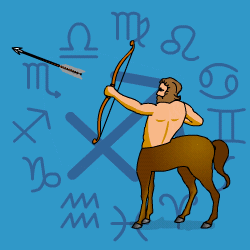 Sagittarius
November 23 - December 22
---
Today's Horoscope for Wednesday October 23rd
You will be retiring, not outgoing for a few weeks. This is your time in the year to step back, take stock, recharge your batteries and let others do the running around. You may feel happier in your own company and could be a touch overwhelmed by too many people around, so give yourself space. Though when a loved one needs support you will be sympathetic and supportive. You won't feel you have to fight to get attention for yourself.
The Weekly Outlook from 21st October
Not at your most outgoing and sociable, you will be happiest in the quiet backwaters for a few weeks. Even your own company will not be a hardship for short periods though obviously not all the time. If you can make your goals modest where a cash matter is concerned then you'll probably sort out what is worrying you and be praised by the right people. But if you aim too high, become too exuberant you could come unstuck. It's all a question of attitude and approach.
Your Monthly Horoscope for October
In your element surrounded by friends and team mates, you'll be throwing yourself into group activities of all sorts and keen to ensure everyone pulls in the same direction. You'll mix n' match, skip around like a butterfly and rarely be bored. You'll be picking up helpful advice as you start laying plans for the next twelve months since you know you need a strategy and goals to aim for. Maybe you won't be as sociable or as romantic for a few weeks from the 8th so you'll need to pamper yourself in the quiet moments if no one else offers. At times you may feel you are giving more to loved ones than you're getting in return but you'll need to be patient since your moment will come and you'll be storing up goodwill. Your personal finances will prove a distraction since there will be a few dilemmas which require action and decisions. Don't dither around. Grasp the nettle and face the bottom line and then you'll feel better. A quieter mood in the final week will give you a yearning for peace and quiet though you won't manage it instantly.
and Next Month's Horoscope for November
Light-hearted, romantic Venus in your sign all month will help to lift your spirits. You'll be handing out compliments, charming everyone around and generally making yourself popular. Energetic friends will be keen that you keep your eye on the longer term and be pushing you energetically. Though you'll dig your heels in over one cash matter in the first week. In general you will feel held back by circumstances beyond your control which are making you feel side-lined for a few weeks. There'll be nothing for it but to pull strings behind the scenes, plan, prepare and let others take the strain. You're an active, adventurous sign so won't take kindly to being anchored. Try to find an outlet for your restlessness in being more mentally active. There'll be nothing to stop you reading more or picking up fun hobbies that don't require endless rushing around. Thinking time won't be wasted. Your birthday Sun from the 22nd will put a twinkle back in your eye and a lilt in your step. Nothing much may have changed but you'll feel a surge of enthusiasm to carry you across into next month.
Year Ahead 2019
With lucky, expansive Jupiter, your ruler, in your own sign for eleven months, you'll have moments of soaring confidence. Better relationships in general and resources coming your way are the gift of Jupiter, and also the message that what you give out comes back to you ten-fold. For all that you'll be preoccupied with tedious matters like money. Tightening your belt and cutting out indulgences will need to be the order of your budget as you instil more order into your finances with an eye to your longer-term security. It'll take perseverance and grit to move ahead with your plans but where there's a will there's a way. At work you'll notice a new spirit of defiance as you opt for a niche where you can follow through on your own ideas and not always be feeling others' instructions. You'll want to spread your wings and be free to suit yourself which may cause a few waves, but you won't care. Where health is concerned, you may be a touch nervy or highly strung so finding ways of winding down and re-centring will help your physical stamina. At home there may be a few muddles or disappointments since not everything will be coming up to expectation. Try to accept that perfection isn't possible and reality takes a bite out of every dream. Be happy with what you have and be forgiving if loved ones are sometimes preoccupied or evasive. Finding a new way of sharing, caring, relating and co-operating will be key to the second half year with the Cancer Solar Eclipse shining a light on all joint ventures, financial and emotional. Old habits die hard so it won't all be easy but if you can make a super-human effort to change then you'd find more fulfilment and satisfaction as the months go on. Money will finally start to come in faster towards the year end, setting you up for a more prosperous 2020.