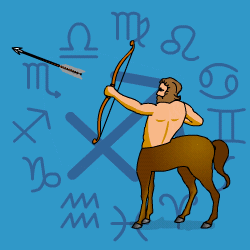 Sagittarius
November 23 - December 22
---
Today's Horoscope for Saturday February 22nd
You'll be focussing on your growing interest in alternative forms of medicine or different ways of healing and keeping fit. As long as you do not head for solutions that are too off-the-wall this could improve your fitness. Allow yourself to explore with an open mind, and a little caution up your sleeve. In other areas too you'll be interested in whatever is new, original and innovative and could open new doors in your life. Investigate, explore, experiment but always double check and test to see what will bring benefits.
The Weekly Outlook from 17th February
In coming weeks domestic and family security will be important and your priority. You'll want to step back from your recent busy schedule to take stock, and to put your feet up more regularly. Though for this week you'll need to stay on your toes with new activities and new encounters. Expect the unexpected and you will not be disappointed. Luckily you'll have confidence, courage and dynamic vitality. Maybe you will feel slightly highly-strung quality, but let yourself sparkle all the same.
Your Monthly Horoscope for February
Chattering constantly and racing off in all directions at once, your feet won't touch the floor. Your head will be rattling with fun ideas and expansive projects but you'll need to slow down once in a while to focus. Otherwise you'll end up running round in circles which won't help. Write out to-do lists and tick items off as you go. Mars in your own sign till mid month revs up your engine so you won't appreciate anyone getting in your way or slowing you down with mistakes. Just try to be tactful. Being overly blunt could put companions' backs up and that will make progress more difficult. Luckily your charming way of keeping everyone entertained after the 7th should do the trick. Keep them laughing and they'll all fall in line. After mid month you'll get your thinking cap on, keen to get your personal finances rebooted. Taking the initiative and making a concerted effort will pay off but it'll take a few weeks, so don't give up. In the final days you'll slow down to spend more time at home with your feet up and having heart-to-heart chats with loved ones.
and Next Month's Horoscope for March
Tucking yourself quietly out of sight at home and snuggling up close to loved ones will be top of your wish list. For three weeks you need to slow down, have a chance to get recent events into perspective and put emotional and personal matters ahead of outer ambitions. Which doesn't mean you won't keep an eye on your finances. There should be good news coming in two separate tranches which will allow you to spend more confidently. But don't go over the score since there'll be one cash setback in the final week so you may need a little surplus for an emergency. You'll be inclined to eat richer and sweeter food than usual with Venus in Taurus all month. Keeping up your exercise regimes will be vital. A loved one may act in a confusing fashion and be tricky to pin down when you ask direct questions. Try to live and let live and leave them to their own devices. There'll be a sea change after the 20th with more fun invitations coming in so you'll be back on the party circuit. But you'll also need to push harder in your everyday routines at work and in the neighbourhood to get your message across.
Year Ahead 2020
2020 needs to be your feet-on-the-ground year which isn't where you are happiest being a fiery, chatty sign. But needs must the practicalities, especially financial, are your priority. There's a real mixter maxter of influences around suggests setbacks, some austerity and some greatest successes. So there'll be great, not so good and indifferent patches. Being sensible and reorganising your long term security needs to be your first aim. Nothing will be achieved overnight so you'll need to be patient and persevere. Oddly enough not being overly controlling will also help the flow. If you hang on too tightly then everything will jam up. And last but not least you will have luck coming your way bringing larger lumps sums than expected your way, notably in March, June and November.rnUranus will be bringing sudden changes at work so you'll need to stay flexible and be ready to grasp new opportunities when they present themselves. Try not to get too uptight with fast-changing situations. Normally you enjoy adventure and the thrills of a varied schedule but you may find yourself wishing for a more peaceful existence.rnThe love and affection of a close partner will boost your morale from April onwards for a few months though there may be a few disappointments at home as loved ones in the family don't behave as you expect. From July your passionate enthusiasm and physical energy will soar and you'll be firing on all cylinders, keen to enjoy yourself and get your own way You won't always be tactful and those close may object to being bossed around but you won't care. You'll expect everyone to be as lively as you. Just don't be too headstrong or rash when playing games ands racing around since you could be slightly accident prone. You may also be overly impulsive on the cash front, wanting to spend to impress.rnLate year you'll focus on partner's needs, aware that you need to be less self-sufficient and more adaptable in the months thereafter.