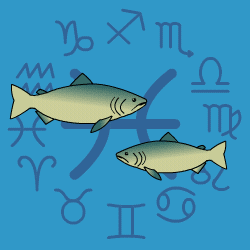 Pisces
February 20 - March 20
---
Today's Horoscope for Thursday April 02nd
Try not to let others people demand too much. Remember you can always put down limits and say when enough is enough. You may tend to worry a little too much about detail, but it does mean you do everything well first time, so it does not have to be re-done. If you are giving out energy then it's obviously an idea to give your body a boost. Later you will notice that you want everything at home and in your emotional life to be totally wonderful, which could set you up for a minor let down.
The Weekly Outlook from 30th March
You'll be aggravated by an unexpected setback. Your life may seem less perfect than usual. But what can you do? Get real for one thing. This is the way it is and once you accept the bottom line, then everything becomes much easier to handle. Be solid, down-to-earth, be dutiful and you might even come out of the end of it with your halo polished. Later you'll demand demonstrative displays of affection from loved ones. Though you may also brood rather than express your needs openly. Loved ones may be misinterpreting your signals and can't always guess you right.
Your Monthly Horoscope for April
Flying ahead with an exciting future plan, aided and abetted by enthusiastic friends, you won't let anyone or anything stand in your way. But your priority will be to keep a watchful eye on your finances. The first three weeks will be your time to boost your security and improve your financial situation, not go into overdrive with spending. At home there'll be a harmonious and affectionate mood with recent tensions evaporating. You'll be looking around to see how you can spruce up the decoration by adding elegant or colourful touches. You will be impatient and frustrated at points as one project or plan is still on a go-slow. Letting your irritation show won't help. Although it won't be easy keeping a lid on your feelings at points. A busy final few days will have you pondering how to streamline your life by abandoning what is no longer necessary.
and Next Month's Horoscope for May
A busy everyday schedule will keep you on your toes, chattering away constantly and making endless short distance trips. You won't be short of variety or choice but you will need to keep your focus steady and get your priorities straight. Managing your time well and communicating clearly will help. As will writing out to-do lists so you don't get in a muddle. Friends and team mates will be around bringing you encouragement, support and good news so your optimism will stay high as you look ahead. Certain projects which have been on a go-slow will get the green light around the middle of the month and you'll be off at speed thereafter. You're never a confrontational sign at best but you will surprise yourself by being more assertive than usual and stamping your foot when necessary. Though in the final days you will want a chance to turn your attention to home and family matters, so try to be tactful.
Year Ahead 2020
Your focus for 2020 will be almost exclusively on friends and future plans with such a build-up of planetary energy in Capricorn. You won't always be clear where you are heading or the company you want to travel beside since you'll be critical one moment and enthusiastically supportive the next. In a year of ups and downs and some dramas you'll need to watch not to be too accommodating of other people's wishes or indeed to be swept around by the prevailing wind. If you stick to your vision and keep your goals clearly in mind you'll avoid most of the pitfalls. A new friend will boost your morale and provide just the encouragement and motivation you need to keep you on track.rnHome will be happier with family tensions easing noticeably so you'll have a chance to relax and be indulged especially for a few months after April. During that phase you'll take the chance to mull over your options and decide what needs cleared out of your life. It may be old attitudes of mind that no longer fit with your present situation, old ambitions that no longer hold your interests or even certain friendships that have passed their sell-by date. You won't be making sudden decisions but will gradually see what you need to hang onto for the time ahead.rnTaking the initiative where your personal finances are concerned is the second half year's task. Getting a grip and then staying persistent will pay dividends though there will be a few distractions along the way. But you know you need to get more surplus accumulated if you're to feel secure and have extra for spending.rnBy the year end you'll be aiming high, knowing the only way to succeed will be to draw attention to yourself and your achievements. You'll take courage in both hands and demand recognition.