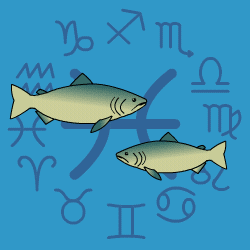 Pisces
February 20 - March 20
---
Today's Horoscope for Wednesday June 23rd
If you look ahead you'll see how your aims and goals can be lived out in the future. There's a predictive quality to the influences so trust your hunches and be ready to move. You may not be practical, but you will be effective as your enthusiasm keeps you moving at speed. Charm will be your ally since you will be seductive and persuasive. But you'll have to watch that you don't clutch at people or put across the impression that you have a hidden agenda up your sleeve.
The Weekly Outlook from 21st June
In coming weeks you'll have moments where you feel in love with life, like a child at heart - spontaneous, colorful and unselfconscious when it comes to enjoying yourself. You will be wearing your heart on your sleeve and be upfront about what you fancy. But when it comes to practical matters and chores you'll be lazy and wound down. You'll have to push yourself to get into a hard-working mood. Tour efforts will be worthwhile turning your luck into long lasting and tangible achievements.
Your Monthly Horoscope for June
Home, family and domestic matters will be to the forefront of your attention for three weeks. You'll be taking it easily, putting your feet up, finding time for heart-to-heart chats with loved ones, reflecting on recent events and preparing for what is to come from late in the month. Putting down roots will be more important than outer ambitions and finding peace within yourself. You may be distracted form your relaxation in the first week as a tricky situation with a friend gets under your skin. You won't know how best to resolve the heated mood. Sometimes doing less is more. You dislike confrontations and they won't work in these circumstances. So smile sweetly and duck. There'll be a few fun social invites to keep you in good humour though hard work will be back after the 11th with a dutiful few weeks ahead. Into the final days you'll be burning the candle at both ends - playing hard and still coping with a pile of chores.
and Next Month's Horoscope for July
Love, laughter, entertainment and enjoyment should be on your agenda with the Sun moving through your chart area of fun for three weeks. If you throw away caution and inhibition and express who you really are there will be a rapturous response from loved ones. You will be attention-demanding and why not? This is your time to sparkle in the spotlight. However since life can't always be a picnic you will have to set aside space in your schedule to sort out a few practical matters. If you're burning the candle at both ends then you'll need to boost your stamina and keep fit. And not getting too perfectionist about tasks being done exactly as you want will help as well. If you get too critical then you'll end up standing on your own, having to do more than you bargained for. After midmonth a friend's situation may concern you but you may worry more than is needed. Within a few days you'll find the wrinkles have been ironed out and you'll be out socialising in good spirits.
Year Ahead 2021
2021 will be a year where you'll be determined to prove yourself. Taking courage in both hands you'll get your talents and achievements out on display and demand recognition. Hard work won't be in short supply for a few months but you will be rewarded with praise and respect as long as you stick to the straight and narrow and are conscientious. Not everything will run to plan with an over-packed everyday schedule, differences of opinion and some delays knocking your best laid plans off track. Not flaring up and flying off the handle will cause less trouble, so gritting your teeth and saying less will be the way to go.Overall it will be a year when the world at large is going through some disruptions, economic and other, so you will need to clear space for yourself to wind down and recentre. You all too readily soak in the atmosphere and overload yourself with problems that are not yours. Finding a sanctuary where you can be at peace will help. Gradually you'll find contentment in your own company and sense growing self-esteem. In the quiet moments you'll also mull over what needs pruned out of your life that will not fit in with future circumstances. These won't be speedy decisions and there will be no pressure to make firm decisions for a while. But getting your ducks in a row before the time comes for decisive action will be an idea. Your confidence will rise sharply as lucky Jupiter moves into your own sign for ten weeks after the middle of May, bringing enthusiasm, optimism and good fortune. Even better it returns before the new year to stay for several months in 2022.In the latter months of the year your focus will switch from career or community ambitions to home and family matters. You'll be keen to put down roots and find emotional security. Sitting down with loved ones to work out what adjustments need to be made will be a priority.