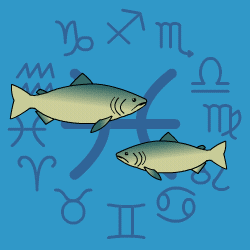 Pisces
February 20 - March 20
---
Today's Horoscope for Thursday April 18th
You won't rest or sit still easily. But you will be great at rebuilding, do-it-yourself, reorganising and generally racing around to maintain order at home. Just watch a tendency to become bossy and overly intense or you may turn your intimate surroundings into a bit of a battlefield. You might not manage to get everything your own way but will have to negotiate a little to get fairer agreements. Stand steady until you reach a sensible compromise, then let go.
The Weekly Outlook from 15th April
Your lucky touch is working well early on this week, though but you are also likely to be extravagant. You will spend it as fast as you make it. This week's full Moon is focussed on financial matters. You may be inclined to think you have to alter the way you share and co-operate, but don't decide anything on the spur of the moment. Getting your own security pulled together is something only you can do and that needs to come first.
Your Monthly Horoscope for April
Venus in your own sign will throw a veil of charm and romance over your month. Your seductive approach will prove persuasive. But really your main aim is to sort out your personal finances until the 21st. Being practical doesn't come naturally to you but it'll be important to get the facts straight and take the initiative in ensuring that your long term security is being protected. You will naturally enough also want to spend but as long as you keep a balance between outgoings and incomings you'll do OK. Most of your pet projects will be sailing along successfully to boost your morale and lift your confidence. The only minor blot on the landscape are certain friendships or team relationships where there is a slight reserve or a blockage before mid month. Try not to be negative, critical or manipulative but keep your cool. If you treasure loyalty then you'll see which bonds are worth preserving. The mood at home will be heated at times so you'll need to keep the peace or even better sweep loved ones up in your enthusiasm so the surplus energy gets a constructive outlet. You'll be outspoken in the final days, leaping in with both feet to express your opinions and you'll feel the better for being honest.
and Next Month's Horoscope for May
Your feet will be working as fast as your tongue in a busy, varied, no-time-to-be-bored three weeks. You'll need to manage your schedule well, be on top of organisational details and check that what you say has been understood. If you manage all that then you'll be streamlined and making fast progress. There may be a heated mood at home partly because you are taking other worries back with you and are perhaps blaming those close for what isn't their fault. Try to soak up your surplus energy by reorganising and sweep loved ones up in your enthusiasm rather than ordering them around. Friends and team mates will lend a calming support to proceedings with words of wisdom just when you need them most. From mid month your energy will rise along with your passions and your charming ways with words will smooth over all manner of wrinkles in the weeks thereafter. Relations within the family will be harmonious and relaxing in the final ten days.
Year Ahead 2019
You much prefer to swim with the currents and drift with the currents, but needs must that you focus firmly early in the year on sorting out practical plans ahead. Certain friendships will be either less amiable than they once were or separated. So you'll treasure the mates around who are loyal and steadfast. They'll offer you advice which won't always be as upbeat as you'd like but they won't be wrong. Team relationships at work will require effort to get them running smoothly. If you are unsettled about a cool atmosphere, then try to break the ice and find a better way of ensuring co-operation. Your everyday schedule will be busy to the point of frantic at times so you won't be bored, but will need to be better organised. Your tendency of leaping out to speak the truth as you see it may not always go down well. Try to tone down honesty and add a little tact. Luckily your efforts should result in several successes or triumphs along the way so you'll be on the receiving end of recognition, praise and admiration from those whose judgement you trust. Neptune, your ruler, will still be in your own sign, making for some confusion or just a foggy state of mind at times. You won't always muster up the courage to be as pro-active as you'd like. In those times it'll be best to go with the flow and see where it takes you. What will waken you up after mid year is the desire to have a more exciting social life. You may be noticing a lack of attention or affection. The answer is to start handing out what you want for yourself. Shower compliments, hugs and kisses around and you'll be revitalised by the response. In December you'll begin to see how future plans can be made to work, with the enthusiastic support of new and upbeat friends.