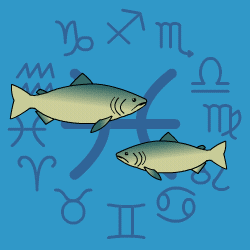 Pisces
February 20 - March 20
---
Today's Horoscope for Tuesday December 11th
It is important that you have open lines of communication since you want amusing conversation as well as cuddles. You are certainly not in the mood to be tied down. Domesticity seems less attractive even than usual, and you want to be wandering around entertaining yourself anywhere but where you ought to be. Try to keep loved ones in a friendly frame of mind, and head for old buddies who you can rely on to provide you with the excitement you need.
The Weekly Outlook from 10th December
This is your high profile time in the year at work, so you'll be taking the lead, talking with confidence and expecting others to follow behind. What you secretly (or not so secretly) yearn for is to be applauded by everyone around. Recognition is likely as you strive hard to get your talents out on display. The right people will want to hear what you have to say so don't hold back, though watch you don't drown them in too much information.
Your Monthly Horoscope for December
In a zippy, dynamic mood and in a high profile few weeks, you'll be taking the lead, expecting others to follow behind and generally making your mark. Your talents and achievements will be recognised which will do your self-esteem the world of good. Which isn't to say you won't have moments in the first few days of low energy or bewilderment and dither as your will power sags temporarily. Just go with the flow when you're not feeling up to stamping your foot and being decisive. Your social life will be into a more adventurous phase so you'll be mixing with fun company and trying out new activities and venues. The right people will be keen to hear your views from the 12th so don't hold back. Good news or a new opportunity on the cash front around the 20th will set your mind racing along new lines. Thereafter you'll be surrounded by friends, the more the merrier as far as you're concerned.
and Next Month's Horoscope for January
Not always a sign that appreciates confronting tricky issues or getting a practical grip, you will need to stiffen your spine and make some key decisions. There will be two priorities this month. One is money and ensuring you take the initiative to improve your situation and curtail your wilder extravagances. The other is committing to sensible longer term plans. You need a goal to aim for and a road map for getting there. Certain friendships will be moving through a testing three weeks and you'll not always feel supported or on the same wavelength. Try not to get negative but see what you can do to widen your circle of acquaintances in the months ahead. The more the merrier as far as you're concerned. Your social status will rise with invitations to special outings where you'll put on your glad rags and a sparkling performance. In the days around the 20th you'll be wrestling with a sudden cash dilemma which will require patience and persistence to fix. Then you'll sink gratefully into a quieter few weeks, happy to put your feet up and let others do the running around.
Year Ahead 2018
Following your star is very much a Pisces trait, but in 2018 early on you'll be asking yourself exactly which of your dreams you want to be aiming for. Taking time out to wait for insight to strike may seem a bore, but it will pay off. There is an answer buried deep inside you, perhaps connected to the past, which needs to emerge. And you won't manage that if you are scurrying around at high speed.rnYour enthusiasm will stay high and your ability to get your message across to a wider circle of acquaintances will please you. Not all of your plans will be workable, so be prepared to trim back on over high expectations.rnFriends and team relationships will require extra effort. At times you may be a touch discouraged since there will be fewer around than usual, but the ones there will be rock solid in their support. They'll insist that you keep your eye firmly pinned on the longer term. With their sound advice you'll be getting a game plan together.rnYour finances will continue to be fairly erratic. Sometimes good and sometimes not so great. Just budget sensibly when there is surplus around and you'll cope well. Perhaps also turn your mind to exploring new ways of improving your cash situation. Not taking risks but an approach better fitted to your present circumstances.rnFrom July your thoughts will turn to work and romance. You'll need to ensure your health and fitness regimes are running well and boosting your stamina since you'll be landed with more chores. And also to give yourself the energy to go out to play. Your social life will be getting a reboot. If you've been feeling out of the spotlight and not getting enough attention, then you need to give it. Hand out hugs and compliments and your popularity will soar.rnLate in the year several projects will be a great success so you'll be showered with appreciation and respect.