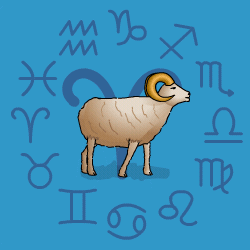 Aries
March 21 - April 20
---
Your Birthday Horoscope
IF ITS YOUR BIRTHDAY TODAY your year ahead will be challenging and changeable so you'll need to stay on your toes and stay persevering. There will be successes and triumphs along the way to boost your morale as well as setbacks and obstacles. If you stick to the straight and narrow you'll gain the respect of the right people. Your personal finances will be up and down so good times and lean times. If you save then there is surplus you'll cope well. Give yourself down time to chill out, drift and daydream.
Today's Horoscope for Thursday April 02nd
Given to dramatic gestures just to prove your points you will be causing the odd stir.rnOn the whole you'll want to show yourself in a positive light, coming across as protective and nurturing. If you take care of others, then they are much more likely to respond in like manner. But you will have odd moments when your mood dips. Pluto can make you see the difficulties rather than boosting your optimism. Remind yourself that you are resourceful and capable of coping with situations which are out of the ordinary.
The Weekly Outlook from 30th March
Be cool, calm and sensible even in the face of provocation and you'll end up with one situation neatly sorted. All you have to do is stick to the straight and narrow, no matter what the distractions or irritations around you. Then you'll be able to relax. Variety will be the spice of your life as you move into a sociable and fun-loving few weeks. You won't want too much intimacy. More friendly than passionate, you want stimulating conversations about life, literature and gossip.
Your Monthly Horoscope for April
Not only is your birthday Sun in place giving you extra bounce you also have a super-successful Jupiter Pluto at your midheaven. So you won't be short of confidence or drive. A mix of positive thinking and absolute determination will create fortunate circumstances and attract respect and praise your way. There is a slight risk of you going over the score and thinking that rules don't apply to you, which could run you into resistance. So tread slightly more carefully than will come naturally. Energetic friends and team mates will be fiery and argumentative but they won't let you look backwards over your shoulder but be nudging you to sort out a long-term strategy. A surprise on the money front could throw your budget off track but as the month wears on you'll focus your attention on getting your finances knocked into better shape. Charm will get you most places so remember that gentle persuasion usually works faster than foot stamping.
and Next Month's Horoscope for May
Keeping your feet on the ground may not be easy but will pay off as you move through what could be a lucky spell on the cash front. Paying attention to detail and taking a common sense approach will bring better results than flying ahead at speed and hoping for the best. You will want to pamper and indulge yourself since the Taurus Sun is pleasure-filled for you. But moderation will bring you more security in the long term. Before and after the middle of the month several triumphs and successes at work and in your community activities will boost your morale. But you'll also need to tread more carefully and take a subtler approach. Mars, your ruler, disappearing out of sight into the sign before yours for a few weeks from the 13th, indicates you'll need to pull strings behind the scenes since circumstances won't allow you to be as pro-active as before. Into the final ten days your everyday schedule will speed up with plenty of variety and choice of company.
Year Ahead 2020
2020 starts the way it intends to continue with challenging questions about how much work and responsibility you want to shoulder. Saturn will bring rewards for past efforts but can also drag mistakes into the open. Pluto close by will bring tensions, a desire to succeed but also resistance from certain people who want the upper hand. Then just as you feel stuck along comes Jupiter to sprinkle a little stardust and luck around career matters. So it'll be a whirlygig of good, not so great and indifferent. March, June and November will be highs of success and rising confidence.rnTeam relationships will require more effort to keep them running smoothly between March and July, and the same goes for certain friendships which will feel separated.rnYou'll need to keep your eye firmly on your personal finances since there will be unpredictable comings and goings with surprise expenses and equally unexpected bonuses coming through. You'll need to continue budgeting for an erratic flow of income.rnAt times you'll want to disappear off into daydream-land and drift along, leaving the hustle and hassle to others but you won't manage it for long.rnThe eclipse cycles will move on to gradually shift your focus away from home and family matters towards ways of finding more adventure and reaching out for more mind-stretching your horizons. You'll be juggling various schemes, planning to travel further afield or take up new hobbies.rnWhere your year really revs up is in the second half from late June till the New Year with Mars in your own sign. You won't take no for an answer, will sweep obstacles to one side not always tactfully and stamp your foot to get your own way no matter how many arguments it causes. Just watch you aren't accident-prone or inclined to shoot yourself in the foot at times since you will hash and crash ahead which won't always make for smooth progress.rnBy the year end your optimism will be high and you'll be looking forward to a lighter, brighter few months ahead.