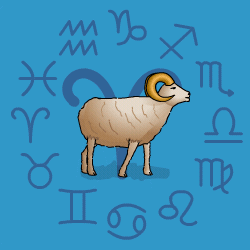 Aries
March 21 - April 20
---
Today's Horoscope for Wednesday June 23rd
In quiet moments, you'll assume life is going your way and you've made the right decisions. Try not to get overly-optimistic. Be more grounded. If you can move out of your recent negative feelings without going too far the other way, you'll do fine. Pluto in aspect to Venus is hinting at the need for change in one close partnership. It could be a minor adjustment in the way you relate to each other. If you can let go without fearing that you will be handing over control, your connection will deepen.
The Weekly Outlook from 21st June
Talking to your nearest and dearest in coming weeks will help you sort out family muddles or tensions which have been swept under the carpet recently because there was no time to address them. Though you will have moments of being overly sensitive, retreating into your shell and putting up defensive barriers. Then just as quickly you'll flip to the opposite and be a Pollyanna, assuming everything will work just by luck, without you putting any energy or effort in. Try to find a balance.
Your Monthly Horoscope for June
Keeping track of details in a busy schedule won't be easy as you race around, chatting constantly and multi-tasking like mad. Starting each day with a to-do list to tick off will help. There will be chances to relax at home with loved ones having heart-to-heart chats and space to ponder on redecoration plans since you'll want comfort, elegance and colour around. Inviting family members and friends round will suit you better than too much socialising outside. There will be a frustrating set of restrictions in the first few days where you'll feel danced on someone else's string. Don't be confrontation since it'll only end in a no-win argument. Be patient or sidestep are your two best options. From the 11th your physical energy and passionate enthusiasm will soar which will see you through a few ups and downs in the days following as you manoeuvre your way through a complicated situation. Be sensible about financial decisions since not everything will work instantly. In the final ten days you'll slow down and focus more attention on personal and domestic matters, happy to have a breather.
and Next Month's Horoscope for July
In a passionate, competitive and go-ahead mood you'll run into a few obstacles in the first week with setbacks, delays and a financial hiccup or two. Slowing down and making considered decisions will be wise, not over reacting and being too hasty. Your main focus should be home, family and your personal life since you want to put down roots and relax in familiar surroundings with those you trust most. Demanding your own way may not bring the results you want but it will be difficult for you to compromise and co-operate. If you can sweep loved ones up in your enthusiasm you'll do best. After mid month you may feel pushed around by circumstances or by someone who is insisting on having the upper hand. Going the long way round and avoiding a head-on clash will be the fastest way out of a stalemate. Into the final days you'll be balancing a busy social schedule with demands from loved ones that you lend a hand to help.
Year Ahead 2021
Living in the present won't suit you remotely with a head full of adventurous schemes and a driving determination to raise your sights high and broaden your horizons. You may not be able to travel instantly in 2021 but there will be other ways to fill your life with excitement and fun escapades. Friends, new and old, will be a major part of your entourage as you bounce ideas around and listen to feedback. You won't be letting the grass grow under your feet as you lay out your grand strategy for what comes next. Admittedly you'll need to keep a watchful eye on your personal finances since your circumstances will change constantly and rapidly. Budgeting with the unexpected in mind means saving when there is surplus to tide you through lean patches and not jumping to hasty decisions or purchases. January will be fraught in this respect, so tread softly and cautiously. You'll redouble your efforts to make more money or protect your security but will also be inclined to over spend. You'll give yourself a break for two months after the middle of May, to ponder, reflect and wait till inspiration strikes. The more you can content yourself with your own company the happier you'll be. Though there may also be a secret adviser who'll set your thinking along new lines. At work certain of the old issues of feeling pushed around or being over controlled will still be there but you'll manage to find a way of sidestepping troublemakers and control freaks since you've been round this circuit several times before. In a quiet way you'll exert more influence than you imagine. From midyear, an extra busy everyday schedule will require you to manage your time well, communicate clearly and get better organised. Your romantic and social life will revive with a surge of high energy and boisterous spirits through July and after. Though you'll need to entertain and party with an eye on the budget since the cash flow ups and downs will run throughout the year.