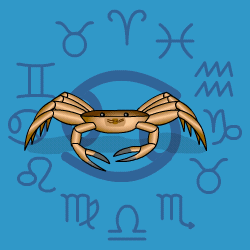 Cancer
June 22 - July 23
---
Your Birthday Horoscope
IF ITS YOUR BIRTHDAY TODAY your year ahead will be adventurous, enthusiastic and optimistic as you look ahead and see broadening horizons, the chance to travel further afield and hope of your pet schemes taking off. You'll need to keep an eye on joint finances since you'll be carrying heavier responsibilities and be thrown back on your own resources. As a result you'll grow in resilience and experience so it won't all be negative. New friends will be lively and dynamic but not always there when you expect.
Today's Horoscope for Wednesday June 23rd
You'll be in a generous mood and will want to be around others who are feeling every bit as upbeat and open-hearted. Morale-boosting like mad, you'll be doing whatever is necessary to ensure the right people's confidence is being lifted. As long as you don't play too many games you'll manage to twist everyone round your little finger. You will have a wicked smile on your face but you may have to tread warily otherwise companions will sense they are being controlled which will end up in resentment.
The Weekly Outlook from 21st June
With your birthday Sun in place for four weeks ahead, you'll sense a surge in exuberance and energy. Where others are concerned what they get with you is what they see. You will not hide much away, indeed you will pride yourself on being as upfront as possible. Not that you put on any effort or a performance, it will happen instinctively with your natural effervescence spilling over. You'll be open-hearted in your generosity to those close and pampering yourself with happy disregard for the budget.
Your Monthly Horoscope for June
In a slow month, you'll be drumming your fingers and complaining about being pushed onto the side-lines. Instead of getting uptight, you should treat downtime as a blessing in disguise. Until the 21st, wind down, recharge your batteries, reflect over recent events and plan and prepare ahead. Let others take the strain and you'll bounce out revitalised later. Close partners will be digging in their heels and not budging over a tricky situation up to the 5th. Laying down the law and insisting they fall in line with your wishes won't work. Turn on the charm instead which will bring better results. Focusing your attention on your finances from the 11th for a few weeks will pay dividends as long as you curb your tendency to let surplus slide through your fingers. Crucial decisions need to be taken in complicated, fast-changing circumstances. You'll be in a better position to make your presence felt after the 21st.
and Next Month's Horoscope for July
Your birthday Sun will put a smile on your face and a lilt in your step as you get an energy and enthusiasm surge to carry you forward with your good resolutions for the future. Your bouncy approach will win you friends and make everyone sit up and take note when you sweep into rooms. There may be a financial hitch or two in the first week which will require a steady hand on the tiller. Getting rattled and looking on the negative side or making impulsive decisions won't help. Keep persevering and you'll start to see results if you can rein in your spending on non-essential items. After midmonth a close partner will dig in their heels over a matter which you also hold strong opinions about so there may be a deadlock. See if there is a way to agree to differ rather than fighting to the bitter end. In the final week your silver-tongued charm will smooth over any resentment and you'll see possibilities of better financial times coming.
Year Ahead 2021
Into 2021 with high hopes and some fair winds behind you, there will be new opportunities financial and emotional hinting at better times coming. But you'll still need to cope with contradictory events, some bringing success and others landing you with responsibilities and problems to solve. The Eclipses point to a hard-working first half year with a need to boost your stamina however you can to be able to cope. And a quieter second half when you'll be given a chance to recharge your batteries and let others do the running around. With expansive Jupiter and restrictive Saturn both moving through Aquarius which is your chart area of confidential financial and emotional concerns, you will find that money news will be good and not so great at different times. More may come in with less effort than you might have expected. But you will also be thrown back on your own resources, not in a position to rely on anyone else's generosity and having to put your mind to reorganising your long-term security. Perseverance will pay off and it need not be a disaster as long as you don't take risks or expect miracles. Needless to say, your plans will chop and change since the world at large will be going through continuing unpredictability and a few jangled upheavals. Your emotions will follow a similarly up and down journey with greater intimacy coming in one relationship as Jupiter dissolves the barriers you have erected in the past to keep intimacy at bay. But you may also sense of coolness and separation in another. Try not to be resentful if you're landed with heavier responsibilities by a loved one since you may feel you're doing double-duty at points. You'll get your rewards in time. The ten weeks after the middle of May will find you with your head above the clouds, basking in the sunshine, with the opportunity to travel or broaden your horizons in other ways and pursue enthusiastic schemes. And once you've ambled through the final months of the year, you'll be on top form and raring to go just before next New Year.